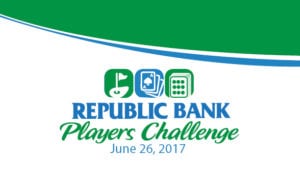 When golfers tee up for the 13th annual Republic Bank Players Challenge on June 26, they'll be doing more than playing a round in the fewest number of strokes possible.
They'll be supporting services that are vital to families in Jewish Louisville.
"Many families who utilize counseling services for themselves and their children cannot afford the full cost of the service," said Judy Freundlich Tiell, executive director of the Jewish Family & Career Services, a co-sponsor of the tournament, "so funds raised help provide scholarships for family counseling, ensuring that families learn skills that help them strengthen their family life."
The event is also co-sponsored by the Jewish Community Center. Proceeds will support camp and membership scholarship funds for those families and individuals in need, helping The J continue to build a vibrant, caring, inclusive community.
Golfers will assemble on at the Standard Club on June 26 for the annual event. Playing in foursomes for top prizes, they will also compete in contests such as closest to the pin, and longest drive.
As many as 110 participants are expected to register this year.
"It's more social, but everyone wants to play well and the owners are awarded with gift cards and trophies," said Ed Cohen, event chair for this year's challenge, "but it's about fun for those in the community, and it has always been that way."
In addition to Republic Bank, the title sponsor of the tournament, sponsorships are available at several levels ranging from $1,000-$10,000.
Contact Lenae Price, JCC philanthropy & outreach director, at 502-238-2768 or lprice@jewishlouisville.org for more information.