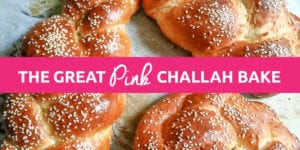 Do you want to learn to make challah? Or do you want to socialize with other Jewish women? The Great Challah Bake is the event for you!
This is the fourth annual Great Challah Bake in Louisville, which is part of an international movement called The Shabbat Project. The Shabbat Project is a "global, grassroots movement that brings Jews from across the world together to celebrate and keep one complete Shabbat," according to theshabbosproject.org. It began in South Africa in 2013 when Chief Rabbi Dr. Warren Goldstein called on the community to keep the Shabbat of October 14 together. Cities all around the world are celebrating a Shabbat together which starts with a Challah Bake in preparation for Shabbat.
This year, the event in Louisville will take place Thursday, Nov. 14 at 7 p.m. at The Temple. Women over 12 years old are invited to socialize and make challah together. Everyone mixes, kneads and braids the dough and then takes it home to bake.
Julie Strull and Karen Bass are excited to be co-chairing this event together for the third year in a row.
Bass says, "Third times a charm! Nothing inspires me more than being with 175-plus Jewish women in the same room getting our hands messy preparing challah. And I am not even a baker!"
Strull adds, "We hope it will be the best challah bake yet as we are dedicating this event to breast cancer awareness."
Some of the attendees last year said their favorite parts of the event were, "seeing so many Jewish women together from all ages and sects of our community" and "meeting new people and learning how to make challah."
We are looking for Challah Coaches, one per table at the event, to spread the word about the event and answer any questions people have while making challah.
Contact Jennifer Tuvlin to sign up to be a Challah Coach or with any questions at jtuvlin@jewishlouisville.org. Please register online today at jewishlouisville.org/challahbake. The registration fee is $18 and will increase to $25 after Oct. 31. Your registration includes challah making supplies, bowl, spoon, apron, snacks, soft drinks and wine.