(see full photo gallery below)
An evening of camaraderie, good food, and learning was had by all at the First Annual Hunger Tikkun, sponsored by MAZON: A Jewish Response to Hunger and hosted by the Jewish Community Relations Council and Dare to Care Food Bank. On May 20, around 30 people representing many different faith traditions gathered in the Dare to Care warehouse for an evening of hunger awareness and mobilization. Rabbi Michael Wolk and Cantor Sharon Hordes led the program.
One of the traditions of the Jewish holiday of Shavuot is a night of learning (also called Tikkun), and on this night the learning was communal and focused on the issue of hunger, specifically here in Louisville. Rabbi Michael Wolk led with an interactive discussion about the obligations of hunger relief in the Jewish tradition. Dr. Syed Khader, board member of Interfaith Paths to Peace, spoke about hunger relief in the Muslim tradition, and Fred Whittaker, a teacher at St. Francis of Assisi, spoke about Hunger relief from the Catholic tradition. Among the many faith groups represented at this dinner were Jews, Catholics, Muslims, Episcopalians, Hindus and Presbyterians.
The final lesson was reserved for Brian Riendeau, executive director of the Dare to Care Food Bank, who spoke about the story of Bobby Ellis, a nine-year-old boy who starved to death in Louisville on Thanksgiving Day 1969. This tragedy so outraged the community that Dare to Care was founded to prevent any future deaths from starvation. Dare to Care is the largest food bank in the area, and having this dinner on the floor of the warehouse, surrounded by aisles and stacks of food waiting to be delivered, created a fitting atmosphere for these lessons.
After dinner, those in attendance were urged by Jewish Community Relations Council Director Matt Goldberg to take action. There are three things people in our community can do right now to help fight hunger and food insecurity. First, they can advocate for the reauthorization of the Child Nutrition Act (WIC), which is scheduled to expire this September. People can call their elected representatives and ask them to move forward on this.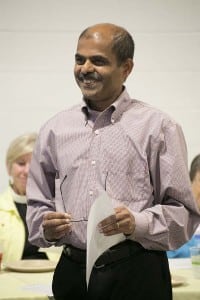 Second, they can pledge to participate in and recruit others for the annual Dare to Care Hunger Walk (taking place this year on September 27 at E.P. "Tom" Sawyer State Park at 2 p.m.). Attendees at this Tikkun were asked to begin forming teams within their own faith communities.
Finally, people were asked to make financial contributions to Dare to Care in furtherance of its mission to feed all the food insecure in the seven counties.
This program was made possible by a grant from Mazon: A Jewish Response to Hunger, and was chaired by Jessica Goldstein, chairperson of the Social Justice Subcommittee of the Jewish community Relations Council.