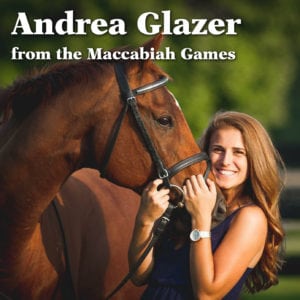 (Editor's note: Andrea Glazer of Louisville, who is competing for Team USA in the 20th Maccabiah Games in Israel, July 4-18, as an equestrian, will be blogging about her experiences from the Jewish state. She has agreed to share her posts with Community. You can also follow her at her blog site, usaequestrianglazer.wordpress.com.)
Thank God.
I am finally in the Louisville airport on my way to New York! After 6 months of intense training to prepare, and three days packing for Israel, Australia, and the team, my stress has finally turned into excitement for this crazy adventure. Since I am about to board my flight, I want to keep it short and sweet, and just give a brief overview of what I hope you get out of this blog.
I will use this platform to keep everyone up-to-date on everything including meeting my teammates and the teams from all over the world, the "horse draw" that I have been anxiously anticipating for months, traveling and exploring Israel, maybe a party or two (sorry Mom), and of course, the competition.
I can't express enough how grateful I am for this opportunity and the unwavering support from everyone. Go check out my "About Me" page to find out more about the Maccabiah Games and how I got to where I am today.
Yesterday, I had the most fun jumping lesson on Alex Bank's horse, Finn! Check out my Facebook page to watch it!