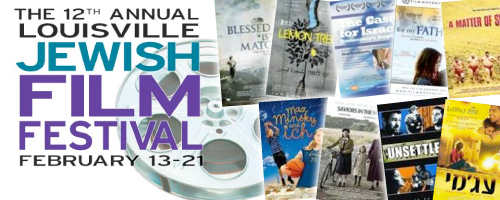 Although all the films in this year's 12th Annual Louisville Jewish Film Festival have been chosen for their outstanding qualities, Ajami, winner of the Best Feature Award at the 2009 Jerusalem Film Festival, is up for an Oscar in the category of Foreign-Language Film. This marks the third straight year that an Israeli film will be taking part in the annual Academy Awards ceremony.
Ajami, by Scandar Copti and Yaron Shami, will be shown at Village 8 on Thursday, February 18, at 7 p.m. The film depicts the brutal life of drugs, violence and poverty in a mixed, Jewish-Arab neighborhood in the Mediterranean city of Jaffa. Copti said he hoped the film would spread awareness about Israel's Arab minority, which constitutes about one-fifth of the country's population of seven million.
The festival is sponsored in part by the Jewish Community of Louisville's Rosa Gladstein Fund and the Louisville Levy Film and Theatre Arts Fund.
Films in the series will be shown at Village 8 at a cost of $8.50 per ticket or $10 at the door unless otherwise noted. Student tickets are available for $6.
The Festival kicks off on Saturday, February 13, 7:30 p.m. with For My Father, about a Palestinian forced to go on a suicide mission. He ends up falling in love with an Israeli girl in Tel Aviv who is estranged from her Orthodox family.
On Sunday, February 14, 3:30 p.m., you'll hear Alan Dershowitz make a vigorous case of Israel's basic right to exist in the film, The Case for Israel: Democracy's Outpost.
At 7:30 that evening, take your sweetheart to see the hilariously poignant comedy A Matter of Size. The film was nominated for 13 Israeli Academy Awards and is part sports drama and part love story.
The fast-paced film, Saviors in the Night, will be shown on Monday, February 15, at 7 p.m. It tells the tale of a German Jewish peasant who escapes the final transport of Jews to the East and sends his wife and daughter to hide on the farm of a friend.
The University of Louisville is sponsoring the film Unsettled in the Ekstrom Library's Chao Auditorium on Tuesday, February 16, at 7 p.m. The movie, which is free of charge, tells about the Israeli government's plans to withdraw from the Gaza strip in the summer of 2005.
As previously mentioned, Ajami will be shown on Thursday, February 18, at 7 p.m.
Lemon Tree, to be shown on Saturday, February 20, 7:30 p.m., was nominated for seven Israeli Academy Awards. The story line involves a Palestinian widow whose lemon grove is threatened by the Israeli defense minister who moves next door and declares the trees a security threat.
The delightful family film, Max Minsky and Me, will be shown on Sunday, February 21, at 2 p.m. It is a funny show about a brainy German girl who wants to become a basketball star, but her mother wants her to study for her bat mitzvah instead. The daughter and popular and athletic Max form an unlikely alliance.
That evening, the festival concludes at the Frazier International History Museum's World War II Exhibit. Moviegoers can view the artifacts from 5:30-7 p.m. and then see the film, Blessed is the Match, about Hannah Senesh, a Hungarian writer who parachutes into Germany with a group of Israeli resistance fighters. The cost for the evening is $18, which covers the exhibit, film and dessert reception to follow.
Angeline Golden and Keiley Caster co-chair the Film Festival Committee and Marsha Bornstein is Film Festival director. The Film Festival Committee also includes Rabbi David Ariel-Joel, Matthew Biberman, Sandra Braunstein, Marty Horrar, Sharon Goodman, Michelle Jones, Jacqueline Kanovitz, Meryl Kasdan, Elana Levitz, Lewis Levy, Cantor David Lipp, Pami, and Stephi Wolf.
Further information about the festival is available online by clicking here or call 459-0660 for details.
[by Phyllis Shaikun]