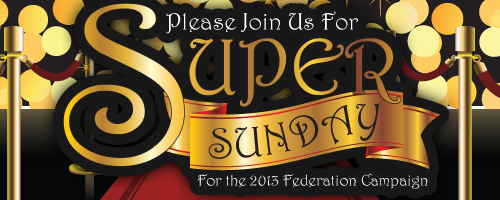 Are you ready to party?
There will be good food, entertainment provided by CenterStage's regulars emceed by the company's director, John Leffert, and lots of prizes. You're in for the full the red carpet treatment.
Mark your calendar now for Sunday, February 17, and volunteer to be part of the 2013 Super Sunday Pre-Oscar Party Telethon at the Jewish Community Center for the Federation Campaign.
This will be a Super Sunday unlike any you have experienced before, according to Chair Sarah Harlan. "It is going to be fun," she said. "And our volunteers will be the stars of the day."
There will be a red carpet waiting for them and a reporter ready to interview them as they arrive. There will even be prizes for those who dress up as their favorite celebrities and other contests as well.
There's another major change this year as well, Harlan explained, "We will not be making calls to people who have never donated to the Campaign or to those who donated less than $500. … That means that volunteer callers will have a higher rate of success than they have in past years. They'll be talking to donors who have a history of support for the community at significant levels."
Every donor is important to the Campaign. This year the Federation is participating in a national program to reach out to people who have given $500 or less and those who have never given before. This program is designed to let people know how important their support is and how their gifts make a difference.  This program also gives volunteers and staff the chance to make Super Sunday 2013 something very different this year.
"We need volunteers," Harlan said. "We need people who can be there on Super Sunday, people to help get prizes from local businesses, people who are creative with decorations to make the whole space feel festive and fun, and people to arrange for the food to make it a great day."
Harlan is a member of the Jewish Community of Louisville's Board of Directors and has been an active member of the CenterStage Committee since 2007. She has chaired the successful Light Up CenterStage fundraiser for three years and also chaired the JCC's Jewish Festival of the Book for several years.
With National Council of Jewish Women, Louisville Section, she volunteered with the Adopt-a-School program and is a member of the Nominating Committee. She teaches at The Temple Hebrew School, serves on Louisville Collegiate School's Education Committee, and serves as President of the Parents Association at St. Francis School's downtown campus, where her son is a junior.
Harlan and her husband, Michael, have three children, Jennifer, 23; Sadie, 19; and Joseph, 16.
To volunteer for Super Sunday, please contact the Development Office, 238-2739 or tlevinkalmes@jewishlouisville.org.
[by Shiela Steinman Wallace]