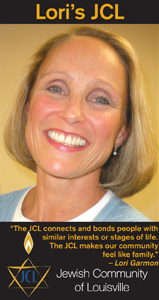 For Lori Garmon, Louisville has been home since she graduated from the University of Cincinnati despite a five-year detour to Cincinnati. It is the place where she met and married her husband of 25 years, and raised her children. She feels the Jewish Community of Louisville and its predecessor organizations, the Jewish Community Center and the Jewish Community Federation have been here for her every step of the way.
Originally from Cleveland, her family always belonged to the Jewish Community Center, and she competed on the JCC's gymnastics team.
She attended the U.C., earning her B.S. in physical education with a minor in health, and stayed to earn her M.A. in education. While in Cincinnati, she worked at the JCC as a lifeguard and taught several P.E. classes.
Her first job after college brought her to Louisville as the assistant physical education director of the JCC. "I met my husband, Joel, there," she said. "He was playing basketball."
When Joel completed his medical degree, he accepted a surgical residency at the University of Cincinnati, and after completion, they returned to Louisville to start their family.
The Garmons enrolled their children in preschool classes and summer camp and took advantage of the pool. "It was amazing," Lori Garmon said. Through the JCC, "all the families connected. … When we moved back here and the kids were in preschool, I got reacquainted with some old friends and met some new people, and we're still friends today. The JCC is a comfortable place to meet.
The Garmons' Jewish activities were not restricted to the JCC. The were active members of the Federation's Young Adult Division and went to Israel with Robin Miller on the Morasha Mission. "It was really great," she said.
The JCC is not just a place for children. While her children were young, she took some painting classes there. As the children grew, their needs changed. While Garmon maintained her membership at the Center, most of her activities were focused on her children and their Ballard High School activities, particularly soccer, madrigals and field hockey.
"Now that the kids are grown and we're empty nesters," she said, "I've come back and am taking painting classes again."
In addition, "Salli Coleman asked me to be on the Adult Planning Committee, so I'm just starting to get involved again."
The Garmons are members of The Temple, and Lori participates in The Temple Scholar Class on Wednesdays.
Garmon and a group of her friends – they haven't settled on a name for their group yet – get together regularly to volunteer with various community projects throughout Louisville. They are committed to the Jewish value of tikkun olam, the repair of the world, and take on a wide variety of short-term projects, moving from one to the next.
She is also a member of a neighborhood book club and works out every day, because fitness remains an important part of her life.
The Garmons have three daughters, Allison, 23, who resides and works in Cleveland; Sara, 21, a senior at Indiana University; and Emily, 19, a freshman at Kent State University.