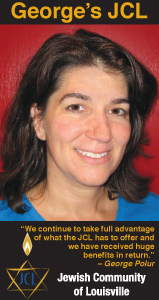 Sherri "George" Polur is a Louisville transplant (originally from Rochester, NY and raised in Florida) who couldn't be happier that she is here. She was only married three weeks when her husband, Michael Gold, decided to interview with Yum! Brands (he's now with Humana) and they flew to Louisville to check it out. They were awed by all the city had to offer and immediately began packing.
Polur recalls they had heard about Louisville from Rabbi Avis Miller at Adas Israel Congregation in Washington, D.C. Miller's son, Gavi, is married to former Louisvillian Minna Ziskind, daughter of Martha and Jonathan Ziskind, and the rabbi had only good things to say about the city.
"We came for a weekend and made an immediate connection," says Polur. It was during the JCL's Jewish Film Festival, and they had the chance to tour the Jewish Community Center. "That sold it for me," she said. "We attended the film festival that evening and someone we had never met invited us to her home for coffee after to discuss the movie. It was amazing!"
Polur says the JCC's gym became her primary connection in town since she arrived here "barefoot and six months pregnant" with her now nine-year-old daughter, Alexandra. After the baby was born, the two attended "Mommy and Me" classes and Polur later dropped the baby off at child care so she could work out.
She jokes that she sometimes felt like she had an office at the JCC since she was there 10 times a week. "The building really has become a Center for us," she says. It is warm, open and connected to a wonderful camp, whose committee she chaired for two years. The family, including seven-year-old son, Adrian, uses every part of the JCC and consider it a "place of comfort and Jewish identity in a largely Christian world." Their involvement, says Polur, has been a huge benefit.
As their children were growing up, she became involved in their activities and also served on the Adath Jeshurun Synagogue Board. An elder law attorney who helps seniors with medical and financial planning, Polur took great interest in, and later chaired, the JFCS Senior Advisory Council. Her husband, Michael, was one of the facilitators of the community summit held at the start of the merger process by Yachad Kadima, the committee that worked on the merger between the Jewish Community Center and Jewish Community Federation.
"We feel incredibly fortunate to be part of the JCL, an organization that looks out for itself and for others," Polur concludes. "We try to give back and our family continues to reap many benefits for our efforts."