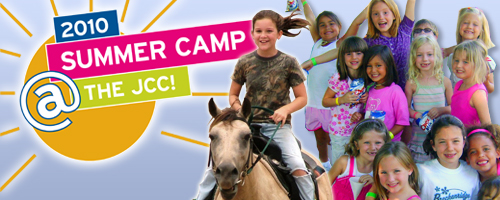 Your child is invited to have the summer of a lifetime at the JCC. Whether your child participates in a one week specialty camp or spends the entire summer at the JCC, every camper will form lasting friendships, have new experiences, and become a better person.
There are specific age appropriate activities for every camper including swimming, sports, arts n crafts and much more. In addition, Jewish culture will be infused throughout all camps with daily Ruach (songs & spirit), Shabbat celebration every Friday and Israel activities.
All campers will be supervised by our wonderful summer staff. All camp staff has experience working with children and will provide the best summer experience for every child at camp. The staff undergoes rigorous training before and throughout the summer and are role models and mentors to all campers.
We are committed to providing your child with an unforgettable summer. You can learn more by clicking here or downloading our Summer Camp Brochure. Please contact us with any questions or to schedule a tour of the camp (502)459-0660.
An incredible summer is just around the corner!
Julie Hollander, Camp Director 238-2708, jhollander@jccoflouisville.org
Justin Sadle, Assistant Camp Director & Middle School Camp Director 238-2778, jsadle@jccoflouisville.org