Bikes & Bourbon
October 5, 2018

-

October 8, 2018
Ride anywhere between 1-4 days
The Jewish Federation of Louisville and Partnership2Gether is delighted to present Bikes2Gether: Bikes & Bourbon. Join us for a 4-day, fully supported bicycle tour of Kentucky's signature landmarks, the bourbon distilleries, beautiful backroads and thoroughbred horse farms. Join us from October 5 -8, 2018, as riders from Israel and around the U.S. explore new friendships, quiet country roads, quaint communities and local distilleries nestled among the rolling bluegrass hills.
In honor of Israel's birthday, each day will feature a 70-mile ride, as well as shorter rides, combined with distillery stops. As a Partnership2Gether (P2G) program, riders and non-riders will have a unique Kentucky experience while strengthening connections between the Western Galilee, Budapest and U.S. Central Area Consortium P2G cities.
Past participants in P2G Israel bike trips have called their experience transformative—inspiring their ongoing and increased Partnership participation and friendships with their Israeli and U.S. peers. Whether it is a love of cycling, a passion for Kentucky's unique spirits, or a desire for personal connections among our Partnership community, this trip is for you.
ITINERARY | RIDERS
(subject to change)
Friday, October 5—Kickoff Breakfast at The J, Ride in Bardstown with home-hosted Shabbat dinners
Saturday, October 6—Ride in Frankfort with a catered dinner
Sunday, October 7—Ride in Louisville with a Community2Gether Bluegrass, Bourbon, BBQ Dinner
Monday, October 8—Ride in Lexington with Finale Celebration
ITINERARY | NON-RIDING PARTICIPANTS
(subject to change)
Friday, October 5— Kickoff Breakfast at The J; Visit Bardstown, Kentucky for bourbon tastings, shopping, hiking in Bernheim Arboretum and Research Forest; Home-hosted Shabbat dinners
Saturday, October 6— Explore downtown Louisville's Museum Row or Urban Bourbon Trail with a dinner for all participants (additional admission fees may apply)
Sunday, October 7— Wander and shop at St. James Court Art Show with a Community2Gether Bluegrass, Bourbon, BBQ Dinner
Monday, October 8— Visit Lexington, Kentucky to shop, bourbon and beer tastings, browse galleries or walk along the Legacy Trail, with Finale Celebration in Lexington
This program is a partnership of: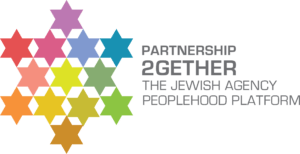 Sponsored by:

JERSEYS AVAILABLE
Riding jerseys are available for purchase at $65 each – add one to your ticket during registration!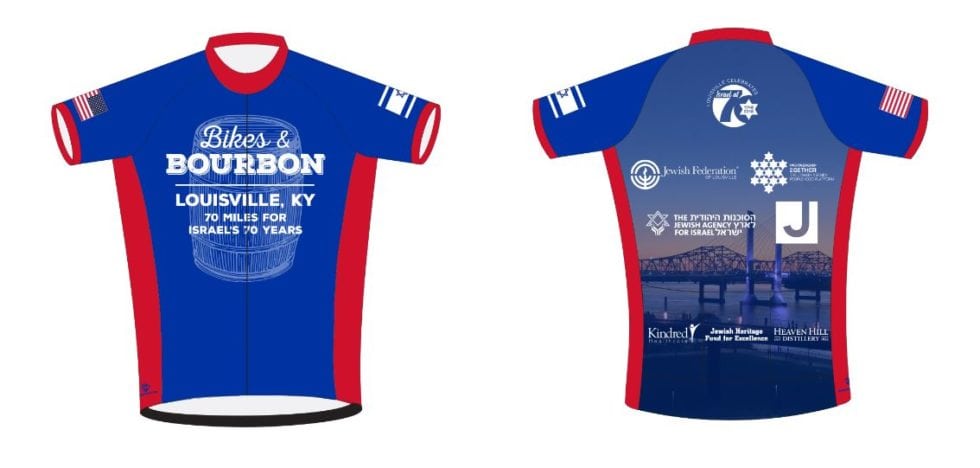 Photo Credit: Beth Salamon
Click here for Ride FAQs
Click here for Bourbon FAQs
Click here for Other FAQs
FAQ
Ride FAQ
What are the registration fees?
4 Day Rider
Regular Price-$385*
Late Registration (after September 24)-$425*
*Plus additional sales tax
What you get:
Four days of organized rides on a scenic course
3 daily distance options
Support vehicles offering SAG & well-stocked support stops
Electronic route sheets & maps
Access to RidewithGPS features
Cycling jersey for purchase
Exclusive distillery experiences
Bourbon bottle sherpa services
1 Breakfast & 3 dinners
Daily Rider
Regular Price-$90-115/day* (varies per day)
Late Registration (after September 24)-$115-130/day* (varies per day)
*plus additional sales tax
What you get:
Organized rides on a scenic course for each day you ride
Daily distance options from 25-70 miles
Support vehicles offering SAG & well-stocked support stops
Electronic route sheets & maps
Access to RidewithGPS features
Cycling jersey for purchase
Unique distillery experiences
Bourbon bottle sherpa services
Breakfast & dinners dependent on days selected
Non-Riding Participant
Regular Price-$115*
Late Registration (after September 7)-$130*
*plus additional sales tax
What you get:
Four days of organized day excursions
Unique distillery experiences
Cycling jersey for purchase
Evening Bourbon Samples
1 Breakfast & 3 dinners
What are the rides like?
Bikes & Bourbon's rides are daily loops that start and depart from Louisville and 3 other nearby cities. Riders can choose between short (20-30 miles), medium (40-50 miles), or long options each day (~70 miles).
Kentucky is not flat. The terrain is generally gently rolling with some hillier sections interspersed throughout. Climbs are not long — typically less than 0.5 miles — but they can be frequent. Most riders find a rhythm that allows them to climb one hill and then coast down the next, allowing their momentum to carry them partly up the next climb.
All of Bikes & Bourbon routes have been planned by experienced local cyclists with safety as their top priority. However, please note that, in some cases, short distances along high volume, high speed roadways are unavoidable to reach various distilleries. All recommended routes are on paved public roads that are open to vehicular traffic, and riders should be comfortable sharing the road with motorists. In general, the road surfaces in Central Kentucky are found to be in better condition than in many other places, especially on the roads surrounding the Thoroughbred horse farms.
Unique distillery experiences are built into the rides. Each distillery has a distinct feel and offers something different from the next. We encourage riders to take time to refuel at the distilleries, browse the visitor centers, and make purchases.
Do I have ride options?
Each morning, embark on one of the various supported routes available each day. All ride registrations offer carefully planned routes through charming Bluegrass towns, along the road to world-famous Kentucky bourbon distilleries where unique experiences await you. Support stops are located every 15-20 miles.
After returning each day, Bikes & Bourbon has planned different activities to sample fine bourbon, awesome entertainment and mingling with fellow riders. Friday night, we offer small-group home-hosted Shabbat dinners.  Saturday night we will host a catered dinner for all riders and non-riders. Sunday night will we have a community-wide celebration where the Louisville Jewish community will welcome and play host to all participants.
What about rain?
Given that bike tours are an outdoor activity, we treat them as rain or shine events, within reason. If there is severe weather that will threaten the safety of the participants, we will delay, shorten or ultimately cancel the rides, depending on the situation. We do everything within our power to make sure the ride takes place.
What about food, rest stops and support?
Bikes & Bourbon will provide breakfast on Friday morning, and dinners on Friday, Saturday and Sunday.  Riders will be on their own for lunches and dinner on Monday evening. Because there are numerous dietary considerations among riders, please specify special dietary needs on your registration.
For each day's ride, we will offer the support you need to stay hydrated and comfortable. The ride will offer supported rest stops with sweet and salty snacks; Support stops will be located every 15-20 miles apart, stocked with water, Gatorade and tasty snacks to refuel for your day's adventure. We do not provide lunch on the tour. Instead, we encourage our riders to visit one of the many restaurants, cafes and other businesses along their route.
SAG support will be available to transport tired riders.
First aid services will be available throughout the ride and we will work closely with local first responders who have the ability to be at any location on our daily courses within minutes. We have taken every precaution to keep our riders safe.
Toilet facilities are available at the beginning and end of each ride. Also, along the route restrooms will be available at the various distilleries, parks, restaurants and stores along the way, generally every 15-20 miles or so. If we determine that there are any long stretches on the route, we will ensure portables are available.
When you ride, things happen, and sometimes your basic bike tool doesn't do the trick. That's why we have fully supported gear vans that will be out sweeping the bike routes and able to be on site in a matter of minutes to help with any bike issue.
Will I have cell service while bicycling?
In most places, yes, in some places, no. Central Kentucky is quite rural and in some places even quite remote. Cell service will not affect your access to electronic route sheets, maps and RidewithGPS, if downloaded prior to riding.
Can minors participate in Bikes & Bourbon?
Minors interested in riding must be accompanied by a responsible adult during the ride, preferably their parent.  A medical release form for each minor rider must be signed by his or her parent or guardian. The minor must have the form in his or her possession at all times during ride. Without the release form, there could be a delay in any necessary medical treatment.
What if I need to rent a bike?
Bikes & Bourbon will work with two bike shops who offer a range of bikes for rent during the tour.  If you want to rent from any of these companies, we can pick up your bike prior to the tour and have it ready at the start when you arrive.   If you select on the registration form that you need a bike, someone will be in contact with you so we can book early for the best selection of models and sizes. Bike rental fees are $50-$80/per day based on available brand and desired model.
What if I am interested in shipping/flying with my bike?
If you prefer to have your favorite bike for the tour, we have a couple of options for you to get your bike here ahead of the ride and returned home afterwards. One option is to fly with your bike. Another option is to ship your bike. If you plan to reassemble your bike yourself when you arrive here, you are welcome to ship your bike to the JCC and we'll have it when you arrive in Louisville. Contact Amy Fouts at grants@jewishlouisville.org to make arrangements.
If you need some assistance with re-assembling or dis-assembling your bike, we also recommend Bike Flights, a high-quality, reasonably-priced shipping option for your bike to destinations across the US and internationally. They offer a variety of options for shipping your bike whether you have a box or not or whether you have the confidence to disassemble and reassemble the bike or not.
Can I or my spouse/partner/friend attend if I/they do not want to ride?
Yes. We've got you covered! Anyone can enjoy the opportunity to participate in the non-biking festivities as a Non-Riding Participant. As a Non-Riding Participant they can still partake in all of the fun and camaraderie, without all of the sweating and pedaling to get there.
Bikes & Bourbon will provide some transportation and planned activities or concierge services if desired for non-participant riders.
Bourbon FAQ
What do I need to know about touring the distilleries?
Some distilleries do not allow cycling shoes with exposed cleats. We recommend wearing recessed cleats, such as Shimano SPD's, or bringing cleat covers. Also, it is often a good practice to carry a change of shoes for the distilleries.
Many distilleries offer products that can only be found at that location. Bottle sherpa service is offered by Louisville Bicycle Tours; they will pick up your purchases for you and transfer them to you at the end of the ride.
Refer to the daily maps to see what distilleries will be on your path.  We have also detailed which tours are free, which have a charge (covered by you) and what distilleries are offering our tour exclusive opportunities. No drinking and biking is allowed on the course. However, bourbon tastings will be organized during select evening events.
What is "Bourbon Bottle Sherpa Service"
Louisville Bicycle Tours has a strict policy of no drinking and biking while on the course. However, there will be options to purchase specially labeled bottles as a Bikes & Bourbon rider. To accommodate your purchases, we offer an exclusive bottle sherpa service at no extra charge, which ensures your bottle purchases make it safely back to The JCC.

Other FAQ
What is Partnership2Gether?
The Jewish Agency's Partnership2Gether Peoplehood Platform (previously known as Partnership 2000) has become the paradigm for successfully partnering global Jewish communities directly with Israeli communities.
P2G connects 450 Jewish and Israeli communities in 46 city-to-city and region-to-region Partnerships, engaging more than 350,000 participants each year in meaningful ongoing connections between Israelis and Jews around the world, through unique programs and one-on-one encounters. 
Can I cancel my registration?
Riders who cancel by September 15, 2018 will be refunded the entire ride fee less $100. Riders who cancel after September 15, 2018 will forfeit the entire ride fee.
Where can I stay?
For U.S. participants, the cost of lodging is not included in the registration fee and it is your responsibility to make your own reservations. Our partner hotel, Hawthorn Suites by Wyndam Louisville East offers exclusive pricing for our riders. With complimentary full breakfast, friendly staff and central location, our partner hotel offers comfort and convenience.
Our Hawthorn Suites block is reserved under "Bikes and Bourbon." Call the hotel directly at 502-899-5959 by 9/4 to receive the special rate of $119.00. This is a busy weekend in Louisville, many hotels will sell out, so book soon.
For a unique hotel experience, please check out other Louisville landmark hotels: 21c Museum Hotel, The Galt House, The Brown Hotel and The Seelbach Hilton
Our Commitment to You
Louisville's Partnership2Gether team, in conjunction with Louisville Bicycle Tours, is excited to bring this inaugural cycling event to Kentucky. Louisville Bicycle Tours combines experience in international bike touring logistics with local knowledge of Kentucky geography. With this combined experience, we will provide a fantastic bicycle tour you will be talking about for years to come.
What about my nights?
In addition to exceptional cycling, Bikes & Bourbon offers a variety of memorable off-bike experiences to sample fine bourbon, awesome entertainment and mingling with fellow riders. We have dinners planned for Friday, Saturday and Sunday nights.
Photo credit: Dalton Strupp & Bourbon Country Burn
Related Events