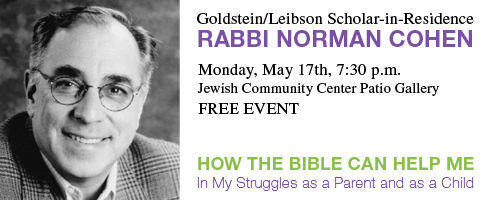 According to The Temple's President, Marty Ruby, listening to Rabbi Norman Cohen speak makes you want to dive into biblical text and hope the lesson with him never ends. Ruby so enjoyed hearing the rabbi lecture on three occasions during the Union for Reform Judaism's Biennium in November that he returned home determined to "get this guy to Louisville."
Ruby promises to be on the front row when the entire community is invited to hear Rabbi Cohen, former provost of the Hebrew Union College-Jewish Institute of Religion and this year's Jewish Community of Louisville Goldstein/Leibson Scholar-in-Residence on Monday, May 17, 7:30 p.m., share his unique insights at the Jewish Community Center in the Patio Gallery.
The evening's topic, "How the Bible Can Help Me in My Struggles as a Parent and as a Child," will allow the rabbi to do what he does best – use selected midrashim – commentaries on stories from the Bible – to help us confront our own struggles in the world we live in today.
He is renowned for his expertise in Torah study and currently is a professor of Midrash at HUC-JIR in New York. He also is the author of many books – five of them recent, two of which use Moses as a role model for leaders and managers – and a number of electronic publications. One of his lecture topics is "Cain and Abel: The Age-old Problem of Sibling Rivalry." It doesn't get much more contemporary than that.
"My whole interest in studying rabbinic texts and midrash is to find contemporary meaning for ourselves," said Rabbi Cohen (who immediately asked to be called Norman) in a telephone conversation last week. We come to the text humbly to seek personal meaning and find answers to our questions in the texts, but what we find is open to our own interpretations. By reading about a character in the Torah, we can find out about who we are and where we fit into the spectrum of human existence. It is an interactive method of teaching since the power of the text teaches people about themselves.
He considers biblical stories metaphors for life. They bring to life our relationships with one another and provide a better understanding of what our lives are all about. So how does one begin to gain this knowledge? His advice: Find a teacher who knows about reading the text and interpreting its meaning and start the experience of study. He contends there is no substitute for studying with a teacher. Even if you do not know Hebrew, most of the text focuses on the story and you can begin to look for what is included in it and what is left out.
The Bible, he says, is great literature; it also teaches a great deal. It is divinely inspired text produced by Jews in a Jewish world and incorporates both a cultural and a religious context. While archaeologists might tell us that Pesach never happened, the reality is that the story is a history of the human condition and speaks to every one of us about the desire for freedom.
"I feel blessed to have taught and studied with people for over 40 years," Rabbi Cohen concluded. "Each time I read a piece of text, I bring my own interpretations to it depending on where I am in my life." It is always changing. That is part of the constancy of the recreation of the text over one's lifetime. "I am always ready to share my passion with others," he says, "and encourage them on their own journey into understanding."
The Goldstein/Leibson Scholar-in-Residence program is an annual program, created by Nicole and David Goldstein and Phyllis and David Leibson, which brings top flight Jewish scholars to Louisville to speak. It is funded in part by the Goldstein/Leibson Scholar-in-Residence Second Century Fund and the Jewish Community of Louisville Goldstein/Leibson Educational Program Fund of the Foundation for Planned Giving.
For more information about the 2010 Goldstein/Leibson Scholar-in-Residence program, call 459-0660.
If you enjoy this kind of program, you can ensure its future by contributing to one of the Goldstein/Leibson Scholar-in-Residence endowment funds. For more information, or to make a donation, go to www.jewishlouisville.org or call 451-8840.
[by Phyllis Shaikun]