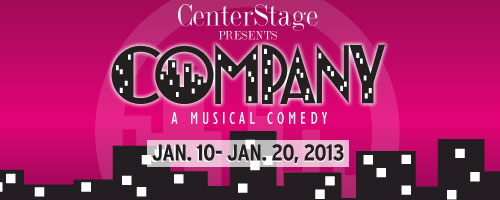 CenterStage is laughing off the winter blues with a performance of the Tony Award winning show, Company. Love will be in the air January 10-20, 2013 at the Jewish Community Center.
Based on the book by George Furth and music and lyrics by Stephen Sondheim, Company asks the question, "Is marriage the answer?" Turning 35, Robert is surrounded by married couples and celebrating a birthday. While his friends are trying to convince him to settle down and get married, he resists. As Robert explores each relationship, he learns each couple's problems. But will he decide to give up his light-hearted girlfriends and get married?
"Company is quintessential Stephen Sondheim," said John R. Leffert, CenterStage Artistic Director. "With Broadway classics from 'Ladies Who Lunch' to one of the most moving songs ever written, 'Being Alive', audiences will laugh so hard they will cry."
Company was recently re-popularized by the Broadway revival starring Tony Award winner Raul Esparza and a special concert performance in 2011 with the New York Philharmonic starring Neil Patrick Harris as Bobby, Stephen Colbert as Harry, Craig Bierko as Peter, Jon Cryer as David, Katie Finneran as Amy, Christina Hendricks as April, Aaron Lazar as Paul, Jill Paice as Susan, Martha Plimpton as Sarah, Jennifer Laura Thompson as Jenny, and Patti LuPone as Joanne.
CenterStage's production will feature some of Louisville's favorite actors such as Mike Fryman as Bobby, Jill Higginbotham as Joanne, Rusty Henle as Larry, Katie Nuss as Marta, Jason Button as David, plus several new faces sure to delight all who attend!