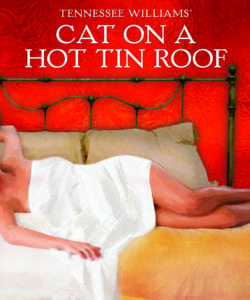 For the first time in two years, CenterStage will bring back a music-less performance and traditional play as Cat on a Hot Tin Roof, presented by Hilliard Lyons, on Thursday, September 15, at 7:30 p.m.
Widely regarded as Tennessee William's best work and his personal favorite play, Cat on a Hot Tin Roof embodies all of the elements of a beloved classic: sex, greed, abuse, addiction and deception. The whirlwind of all these elements from the 60-year-old original Pulitzer Prize-winning play still rings true today and will introduce new faces to CenterStage.
Elizabeth Taylor and Paul Newman brought the play to life when it opened as a movie in 1958. The story takes place on the Pollitt family's estate in southern Mississippi. The audience will ultimately feel like guests at Big Daddy Pollitt's, the "Delta's biggest cotton planter's," birthday party. After returning from the doctor to celebrate his birthday, the entire family other than himself and his wife, Big Mama, knows Big Daddy is dying of cancer. But to keep the fun in celebrating his birthday, everyone keeps quiet.
Throughout the night, the entire family must face issues which have been kept bottled up and shrouded in deceit for years. Everyone knows that Margaret (Maggie the Cat) who left a life of poverty to marry in to the wealthy Pollitt family and her alcoholic husband, Brick, have not had sexual relations for a long time.
The family addresses Brick with concerns about his alcoholism which has escalated since the suicide of his dear friend, Skipper. Tensions quickly begin to boil as Brick explains that Maggie believed Skipper and her husband had a sexual relationship, so Skipper took her to bed to prove her wrong.
Devastated by Skipper's confessions to Brick before his death and disgusted by the family's comments about his drinking, Brick finally blows.
Cat on a Hot Tin Roof presents themes which are still relevant today including coping with death and deceit.
Cultural Arts & Ideas Director John Leffert said this play will bring new faces and new audience members to CenterStage.
"This will be a play that attracts a different kind of audience. Some people prefer plays over musicals, and this will be the show they enjoy," Leffert said.
While there will be some new faces, he said, you can still expect the same top quality CenterStage show.
"We'll actually be doing the 1974 version which was revised for Broadway. All that means is that the third act has been re-written," Leffert added.
Leffert works to bring beloved classics to every CenterStage season, a perk you won't find in many theater companies at the moment.
"Most theater companies are doing the popular modern-day shows right now, leaving the classics to their own volition," Leffert said. "I've committed to making sure the classics are not forgotten."
Cat on a Hot Tin Roof runs Thursday, September 15-Sunday, September 25. The J members receive a $4 discount on opening night and Sunday evening shows. Plus, you can still get your 2016/17 season tickets. Choose from four of the remaining five shows or purchase all of the remaining shows. For more information, visit CenterStageJCC.org or reserve your season tickets by calling Anne Urteaga at 502-238-2773.