Among the great organizations in Louisville, there are some which help the populace in multiple ways. The women of the Mational Council of Jewish Women (NCJW) "turn progressive ideals into action" (as expressed in its mission statement) to help others in our community. Gilda's Club Louisville ensures that "no one ever walks a cancer journey alone." Its mission is "To ensure that all people impacted by cancer are empowered by knowledge, strengthened by action, and sustained by community."
For one week every June, the two organizations come together to help up to 40 children affected by cancer, either in themselves or a loved one, have a free camp week of fun, good food, information, exercise and raising money for other organizations in need of their help.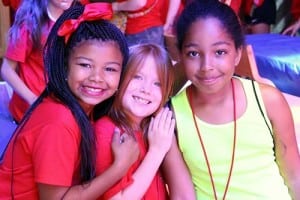 This year, the camp, held June 8-12, had the theme Keeping Gilda's Weird, borrowed with permission from the city's Keeping Louisville Weird campaign. Thus, the campers were called Yo-Yos and the many volunteers from multiple high schools, past campers and teenage cancer survivors were called Gonzos.
Everything possible kept to the theme, including the food and food names on the daily menu. It featured "Freakish Fruit," "Monster Milk," "Licorice Lasagna" (strawberry licorice bites on top), "Scrambled Salad," "Charming Pancakes" (with Lucky Charms cereal inside), "Uncanny Applesauce" and "Holey Bagels" to name a few. The campers loved the "Dogs on a Leash," which was chunks of all beef hot dogs with spaghetti poked through before boiling.
Camp activities were many and varied. Campers participated in groups where they learned or reinforced self-esteem, overcoming challenges and becoming uniquely you. The many informative, fun-filled afternoon field trips included visits to Marengo Caves, the Portland Museum, Faulkner Gallery, a YMCA waterpark, Schimpff's Confectionary Chocolate Shop, the Big Four Bridge and Waterfront Park.
On Thursday, they visited Norton Cancer Institute, where they were given a tour, made radiation masks, learned about different types of radiation and were treated to a Chick-Fil-A lunch. They also met a team of doctors and healthcare providers who answered the questions campers felt they could not ask their family members.
It has become a Friday afternoon Camp Gilda tradition to have a carnival. That morning, campers and staff set up booths and activities, and the afternoon included face painting, corn hole toss, Gilda's huge inflatable chair, a dunking booth and a cake walk. Funds were raised through raffles on many donated items and ticket, food and ice cream sales.
Many family members, friends and neighbors came out and enjoyed the fun. Money raised goes to the charity of the campers' choice, and this year, as is often the case, it went to Kosair Children's Hospital.
NCJW will be helping with Camp Gilda again next year, and more volunteers, especially for the carnival are needed. Volunteers feel that it is worth their time and an extremely rewarding endeavor.