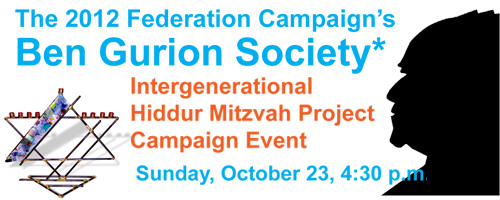 The Ben Gurion Society, the Young Adult Division's Campaign leadership gift group, is showing its leadership in a different way this year. They are planning a unique intergenerational Hiddur Mitzvah Project and Campaign Event on Sunday, October 23, at 4:30 p.m. at Standard Country Club.
The Hiddur Mitzvah Project was created by sculptor Gary Rosenthal, who has a worldwide reputation for crafting beautiful Judaica by combining copper, brass and steel with brightly colored pieces of glass.
Rosenthal believes it is a mitzvah to create beautiful Jewish ritual objects to glorify God and fulfill God's commandments. Through the Hiddur Mitzvah Project, he provides the raw materials – simple forms and a selection of colored pieces of glass – and the finishing touches in his kiln in Kensington, MD, but the creative work is done by the project participants.
Ben Gurion Society members and their families (children, spouses, siblings, parents, grandparents, aunts, uncles and cousins) are invited to select and purchase the Judaica kit or kits of their choice. The kits start at $22.50 and must be ordered and paid for at least two weeks before the event. Information about specific projects will be available soon.
The Rosenthal Studio will ship the kits and a wide assortment of glass to the Jewish Community of Louisville. All the glass pieces have been processed so there are no sharp edges. The projects are appropriate for all ages, including children as young as six.
The day of the event, participants will select the glass pieces they want, and using white glue, attach them to the template for the project they have purchased. The JCL will ship them back to Rosenthal's studio, where the finished pieces will the fired and returned to the JCL in four to six weeks.
This is also a Campaign event, so those present will have the opportunity to make their commitments to the 2012 Federation Campaign.
The Ben Gurion Society is open to all YAD (Young Adult Division) members, age 45 and below, who demonstrate their leadership with a commitment of $1,000 or more to the Annual Federation Campaign.
Rosenthal has been sculpting in welded metals for more than 30 years. Together with a team of talented craftspeople, he creates one of the most popular and unique lines of Judaic art in the country. The handcrafted collection has a contemporary style rooted in tradition and inspired by the rich history of the Jewish people, celebrating beautiful, functional art.
Beyond operating a sculpture studio, Gary and his team pride themselves in running a company that combines business, art, and social responsibility. The studio employs a number of autistic craftsmen who contribute valuable skills and are instrumental in creating the very special woven copper mezuzot that have quickly become best selling pieces.
Work from the Gary Rosenthal Collection has been presented to Presidents and celebrities from Jimmy Carter and Bill Clinton to John Travolta and Ben Stein. The Collection can be found throughout the world in many fine galleries, private collections and museum shops.
Orders of Mosaic Projects are due by October 17.
Click here to download and fill out your order form. You can mail to:
The Jewish Community of Louisville
ATTN: Mary Jean Timmel
3600 Dutchmans Lane
Louisville, KY 40205
You can also call or email your order in to Mary Jean Timmel at 502-238-2739 or mjtimmel@jewishlouisville.org
Tzivia Levin is the YAD Director.
David and Elizabeth Kaplan are the Ben Gurion Co-Chairs.
[by Shiela Steinman Wallace]