New UofL Jewish studies course
The Jewish Studies program at the University of Louisville will offer a new course next semester that delves into the history of medieval Jewish through the arts and literature.
"Representations of Jews in Medieval Art and Literature" (Hum 361), taught by Professor Pamela Beattie, will meet Mondays, Wednesdays and Fridays from 11 to 11:50 a.m.
The course will be based upon substantial European visual and literary resources to show that the representation of Jews and Judaism in western European culture during the Middle Ages was shaped by local, geographical, cultural, political, and religious circumstances.
The course will give students a "more nuanced understanding" of the ideas about race, identity, and "otherness" in the period from 500-1500. Texts ranging from saints' lives, ballads, romance (including Arthurian literature and the Grail Quest tales), drama, songs, historical narratives, and even polemical treatises, will be studied.
For more information, Contact Beattie at pamela.beattie@louisville.edu.
Knit & Qvell Circle
Anshei Sfard's Knit & Qvell Circle will meet at 1 p.m., Thursday, December 6, in the Anshei Sfard library, 3700 Dutchmans Lane. All knitted items are donated to the Jefferson County Public Schools Clothes Closet. Call Toby Horvitz at 502-458-7108 for details.
Fill the Freezer
The Temple will begin its Fill the Freezer event after religious school at 12:15 pm, Sunday December 9. Please pack soups and desserts to fill the freezer for congregates who may need help during the year. All ages may participate. Pizza and drinks will be provided for volunteers.
Sandwich Making Mitzvah
Rabbi David Ariel-Joel will host a sandwich-making event for St. Vincent de Paul homeless shelter at 2 p.m., Tuesday, December 25. Call Becky King at 502-212-2028 to RSVP.
Congregational Pizza and Movie
Keiley Caster will host a pizza-movie night at The Temple on Tuesday, December 11. Pizza will be served at 6:30 p.m.; the movie, Woman in Gold, will start at 7 p.m. Helen Mirren plays Maria Altmann, an elderly Jewish woman who attempts to reclaim family possessions that were seized by the Nazis. Among them is a famous portrait of Maria's beloved Aunt Adele. A discussion will follow the screening.
AJ Trivia Night
Adath Jeshurun will host Trivia Night at 6:30 p.m., Sunday, December 16. Louisville Trivia will be the moderators. The cost is $10 (plus tax). Participants are requested to bring canned food items for the Sonny & Janet Meyer Food Pantry. RSVP prior to December 7 by calling 502-458-5359 or visiting adathjeshurun.com/trivia.
Chinese Dinner and a Movie
The Temple will host its Chinese Dinner and Movie on Monday, December 24. Dinner will start at 6 p.m.; the movie, at 7 p.m. This year, The Temple will screen Through the Wall. After her fiance calls off their wedding a month before the ceremony, Michal (Noa Kooler), decides to keep the reservation and trusts God will provide a husband.
Music Without Borders
Adath Jeshurun and the Louisville Orchestra will present Music Without Borders at 7:30 p.m., Thursday, January 17, at AJ. Teddy Abrams will conduct three works of Russian composer Pyotr Tchaikovsky, including the 1812 Overture. Tickets may be purchased at louisvilleorchestra.org, or by calling 502-587-8681.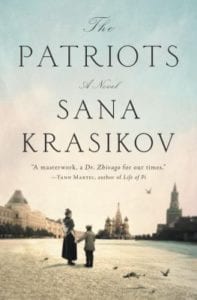 AJ Book Club
The AJ Book Club is currently reading The Patriots by Sana Krasikov. The book will be discussed at the next meeting at 2 p.m., Sunday, January 27. Email Deborah Slosberg at dslosberg@adathjeshurun.com or call 502-458-5359.
Adult Education
Melton classes at AJ
New Melton Classes begin in December: "Beyond Beyond Borders, Tuesdays from 6:30 to 7:40 p.m.; "Jewish Music in America," Tuesdays, from 7:50 to 9 p.m.; "Jewish Music in America," Thursdays from 9:30 to 10:40 a.m.; "Daniel," Thursdays from 10:50 a.m. to noon. To register, contact Louisville Melton Director Deborah Slosberg at 502-458-5359 or dslosberg@adathjeshurun.com.
The Temple classes
The Temple holds a series of adult education classes during the year.
On Mondays, "Advanced Hebrew: The Temple Torah Study Circle" with Rapport meets from 6 to 7 p.m., and "Text Study: Beliefs and Lessons From Our Bible." With Ariel-Joel, "Beginning Hebrew Part 2" with Mark Goldstein and "Basic Judaism-Holy Days and Festivals with Rapport all run from 7 to 8 p.m.
On Wednesdays "Building Character: Jewish Principles of How to be a Good Person" with Rabbi David Ariel-Joel meets from 9:30 to 10:35 a.m. and "The Torah of our Lives" with Rabbi Joe Rooks Rapport meets 10:45 a.m. to noon.
Contact The Temple for details.
Weekly/Monthly Happenings
Pragmatic spirituality disucssion
Dr. Courtney Snyder and Marty Snyder lead a discussion based on universal themes expressed by spiritual thinkers on Sundays at 10 a.m. at Adath Jeshurun. The December 2 topic is "Aspiring to be a Shamas Candle this Chanukah: Illuminating Others." On December 9, the topic is "To Honestly and Compassionately Try to Understand Another's Perspective."
Lunch and Learn
Rabbi Michael Wolk will lead his next Lunch and Learn at noon, Thursday, December 6, at The Bristol on Main Street. The class, not including food, is free. RSVP to mwolk@kenesethisrael.com.
Kabalah Month by Month
Keneseth Israel Cantor Sharon Hordes will guide a group through kabalistic teachings and meditations related to each Hebrew month's holidays, Torah portions, healing areas and astrological connections. It meets every second Thursday at 6:30 p.m. The next session is December 13.
No Shush Shabbat
Temple Shalom's next No Shush Shabbat will be held at 6:30 p.m., Friday, December 14. Rabbi Beth Jacowitz Chottiner will lead the family-friendly PowerPoint service and Benji Berlow will be the song leader. A pot luck dinner will follow.
Senior Lunch Bunch
Temple Shalom will hold its next Senior Lunch Bunch at 1 p.m., Wednesday, December 19, at Mitchell's Fish Market, 4031 Summit Plaza Drive.
Torah study
Cantor Sharon Hordes and Lisa Flannery will lead the next Torah Yoga class at 6:30 p.m., Thursday, December 20, at Keneseth Israel. Temple Shalom and Hadassah co-sponsor the class.
Saturday Torah study
Rabbi David Ariel-Joel leads Torah study at The Temple on Saturdays at 9 a.m. Services follow. There will be coffee, bagels and cream cheese.
Jews and Brews
Rabbi Michael Wolk leads a Torah study session over coffee Wednesdays at 11 a.m. in The J library.
Bridge Club
Keneseth Israel Bridge Club meets Mondays from 1 to 3 p.m. in the small chapel. RSVP to gwishnia@gmail.com.
Coats, clothes for the homeless
Temple Shalom is collecting gently used coats and clothes for girls, boys, men and women of all ages. Please bring donations to Temple Shalom. A bin is located in the hallway near the water fountain.
Worship
Celebration Shabbat
All who celebrate a birthday or anniversary in December may participate in a group aliyah during Shabbat morning worship services at Adath Jeshurun, 9:30 a.m., Saturday, December 1.
Volunteer Shabbat
The Temple will hold a special Shabbat service to honor its volunteers at 7 p.m., Friday, December 7.
End of Genesis Celebration
The Temple's Infamous No-Rehearsal Brotherhood Choir will perform at the Torah celebration during Shabbat services at 10:30 a.m., December 8. at 10:30 am. The Temple Brotherhood will sponsor the oneg, featuring Gravlax, matzo and bourbon.
Shabbat Around the World
Keneseth Israel will host Shabbat Around the World at 6 p.m., Friday, December 14. KI member Michael Diedenhofen will lead a discussion about growing up in Germany, and a Shabbat meal featuring a German-themed menu catered by Naked Hummus will be served. Cost is $10 for adults, $5 for children, free for kids under 6. Prices include a 6 percent sales tax. RSVP by December 3. Send checks to Keneseth Israel or pay online at kenesethisrael.com/payment.
AJ Shabbat Scholars
Dr. Elliott Rosengarten will be Adath Jeshurun's Shabbat Scholar at 12:15 p.m., Saturday, January 5. His topic will be "Happy New You," an introduction to his new adult education course, Kabbalah 1, which will start on Sunday, January 6.
Chanukah
Unite for Light
Chabad will host Unite for Light at 4 p.m., Sunday, December 2 – the first night of Chanukah – at Fourth Street Live. City leaders, including Jews, Muslims, and Christians, will come together. The eleven victims of the Pittsburgh shootings and the two of the Kroger attack will be remembered. Mayor Greg Fischer will light a giant chanukiah. There is no charge to attend. Contact chabad@chabadky.com for details.
AJ Family Chanukah Bash
Adath Jeshurun's Family Chanukah Bash is slated for 6:15 p.m., Sunday, December 2. The Chanukah dinner will include traditional potato latkes, lasagna, salad and sufganiyot. Bring your own chanukiah for a community candle-lighting and make your own Chanukah candles with Rabbi Diane Tracht. Cost is $5 (plus tax) for adults, free for children 12 and under. RSVP by November 26 at adathjeshurun.com/chanukahdinner or by calling 502-458-5359.
Chanukah at Paddock Shops
A giant outdoor chanukiah will be lit at 6 p.m., Wednesday, December 5, at the Paddock Shops in Louisville. Warm drinks, latkes, holiday will be served. There is no charge. Contact chabad@chabadky.com for details.
Chanukah Tikkun Olam
Keneseth Israel will make sandwiches and care packages from 5:30 p.m. to 6:30 p.m., Thursday, December 6, then deliver them to the homeless downtown. Bring your own supplies (bread, peanut butter and jelly, blankets, underwear, socks, flashlights, etc.) Chanukah candles together before leaving.
Chanukah sing-along
Adath Jeshurun Cantor David Lipp will be at The Glenview at 7 p.m., Thursday, December 6, in the Seinfeld Room, for an evening of chanukiah-lighting, singing, coffee and dessert. Bring a chanukiah for a community candle-lighting. Candles will be provided.
Latke bar at distillery
Young Jewish Professionals 21 and over will tour The Peerless Distilling Company on 10th and Main Street at 7 p.m. Thursday, December 6. A tasting will follow. There will be chanukiah lighting. Space is limited. Contact rabbishmully@jewishlearning.center.
Women's latke contest
The Neshi/Women of Valor Club will hold a Chanukah party at 7:30 p.m., Saturday, December 8. A latke-making contest will be held, along with crafts. The event is for women ages 12 and up. Contact chabad@chabadky.com.
Family skate event
A family Skate at the Alpine Ice Arena will be held from 5 to 7 p.m., Sunday, December 9. Bring a warm item of clothing to be donated to JFCS. Latkes and refreshments will be served and a chanukiah will be lit on the ice. There is no charge. Contact chabad@chabadky.com for details.
Hanukkah Palooza
Temple Shalom will hold its annual Hanukkah Palooza at 5:30 p.m. Saturday, December 8. In addition to the dinner of brisket and latkes, havdalah will be held followed by carnival games for kids; bingo, poker and mah jong for adults, and a raffle to benefit the Sonny & Janet Meyer Food Pantry. Cost is $10, free for kids 12 and under. RSVP by December 5 to Temple Shalom at 502-458-4739 or information@templeshalomky.org.
Young Adult Pottery Painting
The Temple Young Adult Group will celebrate Chanukah by painting pottery at 6 p.m., Saturday, December 8, at Stoneware & Co., 731 Brent St. Candles will be lit and a nosh will be served. The event is for ages 22-36.
Vodka-Latke Chanukah party
Keneseth Israel will hold its Vodka-Latke Chanukah party at 7:30 p.m., Saturday, December 8, at Vines on Bardstown Road. Havdalah will be held followed by cocktails, a latke bar, appetizers and music. Cost is $5. You must be at least 21. Send checks to KI or pay at kenesethisrael.com/payment.
Anshei Sfard chanukah party, contest
Anshei Sfard will celebrate Chanukah at 6 p.m., Sunday, December 9, at the synagogue. A concert featuring Simply Tsfat will follow dinner. Cost is $18 for adults, $7 for children 5-12), free for kids under 4. There is a $60 maximum per immediate family. RSVP by Wednesday, December 5 by calling 502-451-3122 or reserve on Facebook.
KI/KIP Chanukah festival
Keneseth Israel and KIP will celebrate Chanukah on Sunday, December 9 following 6 p.m. minyan. There will be doughnuts, songs, dreidels, games, a bounce house, arts and crafts.