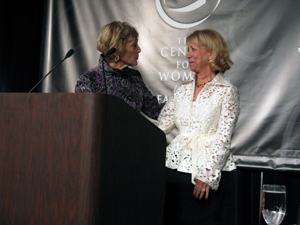 [Archived from March 6, 2009]
The Center for Women and Families' annual Celebration of Service and Survival, held February 26 at the Louisville Marriott Downtown, offered a very full program that honored five distinguished women of accomplishment, highlighted the Center's mission, and included a raffle, live and silent auctions and musical entertainment.
The evening's honorees were Alice Brooks, Crit Luallen, Marcia Roth, Kathy Smith-Andrew and Joanne McCarten Weis. (See the February 6 issue of Community for details of their accomplishments.)
The Center for Women and Families' mission is to combat domestic violence and to empower women to escape abusive situations and rebuild their lives. To show that women of all ages, from all parts of the community and all walks of life can be the victims of domestic violence and can find the strength to leave their abusive situations and start anew, half a dozen women, including one of the honorees, spoke up from their places around the room and briefly shared their personal stories. Each ended her tale by stating, "I am a woman of strength, wisdom and courage.
WAVE 3's Carrie Weil and Dawne Gee served as emcees, Danny Flanigan and Kathleen Hoye provided the musical entertainment, and the Rev. Kevin Cosby gave the invocation. Denise Vazquez Troutman is president and CEO of the Center for Women and Families, and Kim Tharp-Barrie is chair.