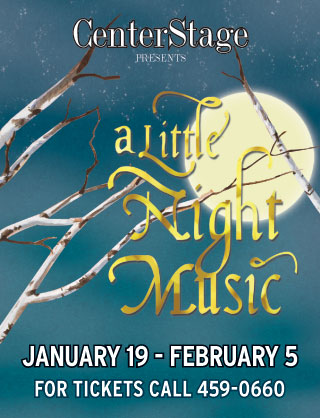 Jewish Community Center: 'A Little Night Music' starts Jan. 19, Israeli Big Band plays Jan. 4
By Staff | Published: December 28, 2011
The Jewish Community Center is presenting two performance events.
Honoring Stephen Sondheim's 75th birthday, CenterStage at the Jewish Community Center will present "A Little Night Music," January 19 through February 5.
On Wednesday, Jan. 4, the Thelma Yellin High School of the Arts is bringing their 20-student Big Band for a free performance at JCC's Linker Auditorium.
The Tony Award-winning "A Little Night Music" features the hit song, "Send in the Clowns," a rich musical score done entirely in waltz tempo, turn of the 20th century costumes, "and the magical lighting of a Scandinavian summer night when the sun never sets," according to a JCC news release.
CenterStage's production brings together a veteran cast of actors to tell the tale of three couples comically mismatched and re-matched over the course of a weekend, according to the release.
Here's the play synopsis:
Desiree Armfeldt, played by CenterStage and Derby Dinner Playhouse veteran Collette Delaney, is an aging but beautiful actress tiring of her soldier lover, Count Carl-Magnus Malcom (Rusty Henle), who is married to the long suffering Countess Charlotte (Jamie Tobelmann). Russ Dunlap, who played Don Quixote in CenterStage's recent production of Man of La Mancha, portrays Fredrik Egerman, married to the still virginal Anne (Emily Fields), who, unbeknownst to all, is the object of infatuation of Fredrik's grown and equally frustrated son, Henrik (Kyle Braun). When Desiree and Fredrik attempt to rekindle their former romance as the lives of the three couples become intertwined over a weekend at the chateau of Desiree's mother, the sharp-tongued, droll Madame Armfeldt (Barbara Myerson Katz).
"A Little Night Music" had a Broadway revival in 2009 that featured Catherine Zeta-Jones as Desiree and Angela Lansbury as Madame Armfeldt. A 1977 movie version featured Diana Rigg and the late Elizabeth Taylor.
"I had the pleasure to see the most recent revival on Broadway and immediately thought it to be a perfect show for CenterStage," stated CenterStage Artistic Director John Leffert in the release. "The characters are rich and complex, the libretto is smart and funny and the music is lush and breathtaking. It is a perfect challenge for our actors and I knew our audience would love it."
CenterStage will present "A Little Night Music "Thursday, January 19; Saturday, January 21; Thursday, January 26; Saturday, January 28; Monday January 30; Thursday, February 2; and Saturday, February 4 at 7:30 p.m. and Sundays, January 22; 29 and February 5 at 2 p.m. Tickets are $18 per person. Based on availability, there will be 20 $10 rush tickets sold for weeknight performances. Rush tickets must be purchased in person at the Jewish Community Center (3600 Dutchmans Lane) on the day of show prior to 5 p.m.
For information and ticket reservations, call 502-459-0660.
––––––––––––––––––––––––––––
The Thelma Yellin High School of the Arts will play January 4 in a free concert. The Big Band performs a variety of music from Swing and Funk to Rock and Latin arranged by Bob Mintzer, Toshiko Akyioshi and Bob Brookmayer.
The group is the largest ensemble in the Jazz Program at Thelma Yellin and is conducted by Mr. Eli Benacot, a graduate of Berkley College, according to a news release.
"The Thelma Yellin Big Band is internationally recognized young talent," stated Senior Adult Program Director Slava Nelson in the release. "By bringing their exciting performance to Louisville, we want to showcase a light side of Israel."
The Big Band is in Louisville for the 3rd annual Jazz Education Network conference. Out of more than 90 performances that will take place over three days, the Israeli Big Band is the only non-North American band scheduled to perform, according to the release.
Thelma Yellin High School, founded 50 years ago, is a national school in Israel dedicated to nurturing the needs of artistically gifted students during their high school years. The program offers six majors including dance, classical music, jazz, drama, film and visual arts.