[By Brian Blum]
August 09, 2010
Adding applications is now as easy as a one-click install, with the new toolbar from Israel's Wibiya, which consolidates dozens of social media functions into a single space-saving strip.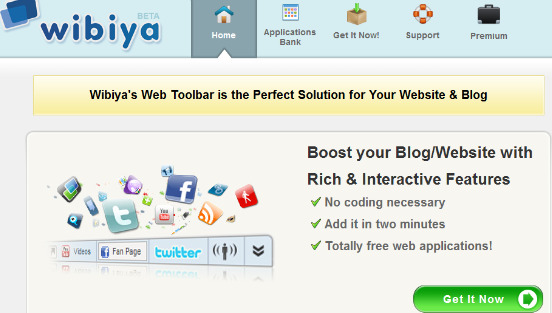 Wibiya aims to streamline the whole process of social interaction on the Web.
From 'Facebook-like' buttons to embedded YouTube videos and interactive chat, it's rare to find a website these days that doesn't beckon you to share your thoughts with everyone you're connected to.
But for website owners, adding all that social interaction takes time and, if you're not a programmer, copying and pasting esoteric HTML and JavaScript code into your site's header or widget boxes can be a technically daunting task.


Wibiya from Israel is a hot start-up that aims to streamline the process. The company, which raised $2 million a few months back from Primera Capital and counts as one of its seed investors the ubiquitous Israeli angel and Internet guru Yossi Vardi, has built a popular toolbar that consolidates dozens of social media functions into a single space-saving strip at the bottom of your website. Wibiya's aim is to make adding new apps and functionality as easy as a one-click install.
Among the useful Web functions that Wibiya incorporates are the ability to instantly "like" a company's fan page on Facebook and write on its Wall without leaving the website you're looking at; see how many other people are online and looking at the same page you are; translate the site into one of more than 40 languages; and chat with your social media friends directly from within the Wibiya bar.
Amazon is among 25,000 merchants on Wibiya
Taking a cue from Apple, Wibiya has created its own app ecosystem, allowing third party developers to add their Web products to the toolbar at no cost. This has led to an eclectic range of functionality built by enthusiastic supporters that Wibiya co-founder and CEO Dror Cedar never expected.
For example, there's an app that allows website owners to pop-up targeted messages filtered to the specific person visiting. This could be based on the page a visitor is currently viewing (say, a message about the Middle East peace process) or could kick in only after a user has been on at least five pages of the site.
Another popular app automatically turns all links on a website into "affiliate ads." If a visitor to the site buys a product via that link, the website publisher keeps 70 percent of the revenue. Amazon is one of 25,000 merchants included in the program.
Want to raise money? Wibiya has apps for that, too. One puts a link on the toolbar to your organization's Causes page on Facebook; another allows visitors to use PayPal to make donations a snap.
Wibiya is on the verge of releasing a developer website with an open API (Application Programming Interface) to make it even easier for developers to build Wibiya-compatible apps, Cedar tells ISRAEL21c.
For publishers, Wibiya provides detailed analytics showing, for example, how many clicks the toolbar is receiving or how many Twitter updates have been tweeted via the Wibiya service. The toolbar itself is tiny – only 17K. And it plays nicely with all the leading blogging platforms, including WordPress, Blogger and Ning.
Since the toolbar is free to both third party developers and publishers, how does Wibiya intend to make money? "We work with high end publishers including Philly.com, Playboy and even the (confectionary vendor) Jellybelly.com on either a revenue-share model or one that's based on performance," Cedar explains. "We deal with them directly to build a tailor-made solution."
Created by popular demand
For everyone else – the so-called "long tail" of web publishers, as Cedar describes them – Wibiya will soon introduce premium paid packages with "for example, the ability to integrate your own advertisements into the toolbar."
Cedar didn't start out with the intention to build Wibiya. He and his co-founders Daniel Tal and Avi Smila were working on a travel-related product called Joongle. "If you wanted to search for a flight from Tel Aviv to New York, our toolbar would give you the top 10 websites, like Kayak and Priceline, with flights to that country," Cedar says. "Then each time you clicked, it would do the search for you."
But when the team showed the product, potential clients kept saying "wouldn't it be great to have another button that would show my most recent posts, or one that displays photos," Cedar recounts. Realizing that there was an even bigger market beyond travel, the company quickly switched gears. "After the 10th time, we said okay. The demand came from the publishers themselves. People really wanted it."
One concern we had was whether creating yet another way to share information across the Web would cause alarm, much in the way that Facebook has taken a drumming recently for its fungible privacy policies. Moreover, will users be paranoid that Wibiya may follow them around, tracking what they're doing on the Web?
Cedar assures us that Wibiya is just "an enabler. We don't do anything automatically and we don't save your information. We're completely transparent." Still, Wibiya may have to be more proactive in spelling things out to put visitors at their ease.
As for the name Wibiya, it's a play on words – a "wib" is a widget bar. "We didn't like 'widget,' " Cedar says."That implies a static component."
Indeed, with Wibiya's functionality, financing and future prospects, the company is anything but static.
[Story courtesy of Israel 21c: Beyond the Conflict News Service]