Regional Convention
From December 21-24, 25 members of Drew Corson AZA and Jay Levine BBG attended BBYO Regional Convention at the Kingsgate Marriot Hotel in Cincinnati, OH. The weekend marked the end of the term of the 58th Regional Board and included the election and installations of the 59th  Regional Board.
Louisville members of the 58th board who completed their terms are Sophie Reskin, regional morah (vice president of membership), and Alanna Gilbert, regional mazkirah (vice president of communications).
Two members of Jay Levine BBG were elected to the new Regional Board. Maggie Rosen was elected as regional morah and Natania Lipp was elected regional sh'licha (vice president of Jewish heritage and community service).
While not busy electing the new regional board, members of Drew Corson AZA and Jay Levine BBG enjoyed a dance, a hypnotist and learning about the homeless in Cincinnati.
Drew Corson AZA Chinese Dinner
Drew Corson AZA marked December 25 with a Chinese dinner at Jade Palace. Sixteen members attended and everyone had a great time enjoying delicious food and each other's company.
Drew Corson AZA Spring Term Board Elected
On Sunday, January 13, 18 members of Drew Corson AZA came together to elect the new spring term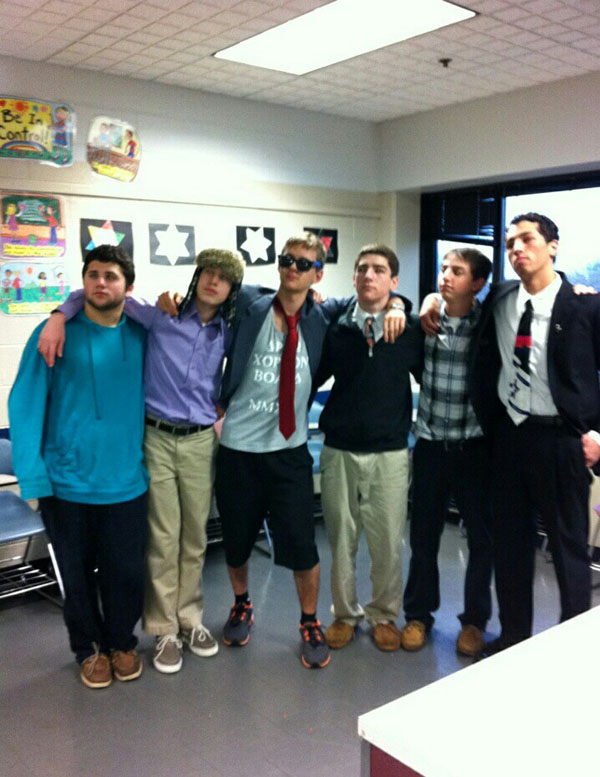 board.
The new officers are: Godol (president), Eli Gould; S'gan (vice president programming), Michael Schwartz; Moreh (vice president membership), Daniel Segal; Shaliach (vice president of Jewish heritage and community service), Ben Koby; Mazkir (vice president of communications), Jacob Finke; amd Gizbor (vice president of vundraising), Ben Bass.
The Drew Corson Board is already hard at work planning programs for the spring. If you are a parent of an 8th grader, be on the lookout for information about Drew Corson AZA.
Jay Levine BBG Spring Term Board Elected
by Rachel Bass
"I pledge to thee oh BBG, my love, my youth, my loyalty…"
Sunday, January 13, Louisville's Jay Levine BBG celebrated the New Year by electing their 2013 Spring Term board. Twenty-four girls were in attendance, some running, others there to encourage their sisters and be a part of the voting class. Although interspersed with the chowing down of candy and a top-10 list about the most awkward things that can happen to a person, the day included two hours of serious business.
Nine girls from the chapter pledged their love to BBG; they created platforms, wrote speeches, and stood up in front of the room to persuade the chapter for their vote. Although each girl showed qualities that were worthy of board, only six could be elected.
The new officers are: N'siah (president), Rachel Bass, junior, Ballard High School; S'ganit (vice president of programming), Deborah Levin, junior, Manual High School; Morah ("MIT Mom", vice president of recruitment), Becca Lustig, freshman, Manual High School; Shlicha (vice president Jewish heritage/ community service), Hillary Reskin, sophomore, Ballard High School; Gizborit (vice president of fundraising), Katie Segal, sophomore, Manual High School; and Mazkirah (vice president of communications), Audrey Nussbaum, freshman, Kentucky Country Day.
The new board is already getting down to business with their first board meeting this week, and is looking forward to new recruits and the possibilities the new term holds. So, if you are a Jewish 8th grader or the parent of one, keep your eye out for news on Jay Levine happenings. You don't want to miss out on the opportunity to create bonds with fellow Jewish teens in Louisville and become part of a larger than life Jewish movement!
Teen Conection
Ga-Ga Tournament
On January 6, members of Teen Connection met at the JCC for a Ga-Ga Tournament planned by their peers on the Teen Advisory Committee. While taking breaks from the tournament, the teens enjoyed pizza and playing the new Xbox in game central, which was generously donated by Amy and Nathan Fouts. Ben Gould and Spencer Geer won the tournament. Prizes included an iTunes gift card and tickets to the upcoming Matisyahu concert.
Skiing at Perfect North
On Monday, January 21, middle schoolers spent their day off from school taking a trip to Perfect North Slopes in Lawrenceburg, IN, for the first Middle School School's Out Day Program. A great time was had by all as everyone skied, snowboarded, snow tubed and enjoyed the man-made snow.