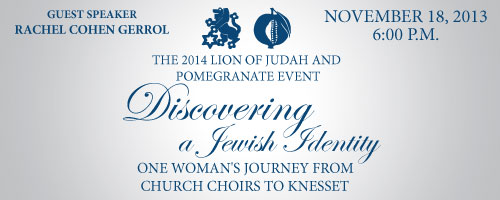 Lion of Judah, Pomegranate event is November 18
[by Shiela Steinman Wallace, Editor, Community]
Together, we do extraordinary things.
This is the tag line for the 2014 Federation Campaign, but it is much more than a tag line. It is a statement of fact.
On Monday, November 18, women in the Lion of Judah and Pomegranate divisions are invited to a special program, "Discovering a Jewish Identity: One woman's journey from church choirs to Knesset," to hear about one of those extraordinary things. The event, which includes dinner, will be at the home of Shelley Trager Kusman at 6 p.m.
Guest speaker Rachel Cohen Gerrol, the child of an interfaith marriage who grew up singing in a church choir, will share how a Birthright Israel trip connected her to the Jewish part of her heritage and set her on a journey toward Judaism.
Since returning to the U.S., Rachel has founded several programs, including a Birthright Israel alumni house at the University of Pennsylvania, and in "Shabbat Hoppin'," a monthly "learners service" at different congregations, in Washington, DC. "Shabbat Hoppin'" now has over 300 participants and recently expanded to Los Angeles, and other cities.
Rachel is an Israeli Ministry of Foreign Affairs-trained advocate for Israel, chair of Birthright Israel Next for the Jewish Federation of Greater Washington, a member of the the Women's Advisory Board of the Jewish Outreach Institute and works with InterfaithFamily.com to reach out to other children of interfaith families. She's even testified before the Knesset.
Rachel's younger brother and sister have also taken Birthright trips and are following her lead.
Shelley Trager Kusman and Robin Miller are co-chairs of this event. The event is hosted by Shelley Trager Kusman and Jean Trager.
The cost of this event is $36 and is not tax deductible. A Vaad-approved option is available if requested by November 11. Complimentary valet parking is available.
This event is open to all members of the Lion of Judah and Pomegranate divisions of the Annual Federation Campaign, their mothers, mothers-in-law, adult daughters and daughters-in-law.
The Lion of Judah Division is comprised of women who make a minimum commitment of $5,000 to the Annual Federation Campaign; and the Pomegranate Division is comprised of women who make a minimum commitment of $1,800.