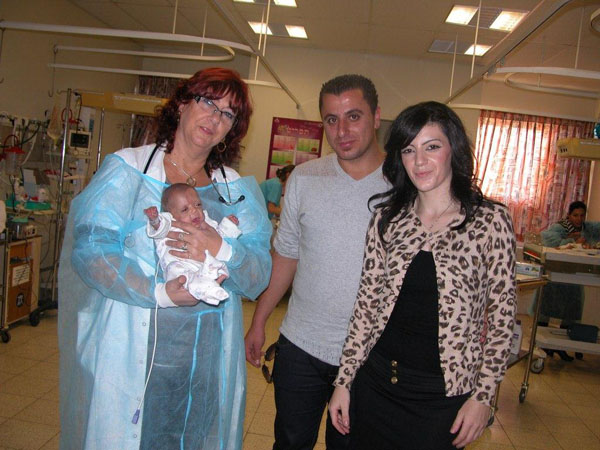 Immediately following it's arrival to the Western Galilee Hospital (WGH) in Nahariya, Israel, a life saving MRI restored the life of one resident.
The patient, 56, was brought to the hospital with recognition difficulties and suffering from blood contaminants. She was hospitalized in the Intensive Care Unit and treated with antibiotics.
After she regained consciousness, the patient began to complain of pain in her back and legs. After a scan in the previously unopened MRI, physicians found the patient to be suffering from an epidural abscess, which can lead to paralysis and further risks to survival.
With the new diagnosis, the patient underwent an emergency operation during which the surgeons removed the abscess. Now, the patient recovering and hopes to enjoy full recovery in the coming weeks.
It is important to note that until the opening of the newly built MRI unit of Western Galilee Hospital, the hospital shared a portable devise, which was moved between hospitals throughout the North. The Director of the Spinal Injury Unit, Dr. Nimrod Rachimimov, stated that it was impossible to know where the portable devise would be when it was needed because the unit was constantly chasing across the entire north of Israel helping seriously ill patients from Tiberius to Hadera.
The low availability of the mobile unit led to long wait times for many people resulting in unnecessary suffering and pain for many patients before treatment could begin. Recently Israel's Ministry of Health granted licenses to additional hospitals to operate MRI Units on a permanent basis, including WGH.
The devise was purchased in part with the support of the Friends of Western Galilee Hospital, IFCJ headed by Rabbi Yechiel Eckstein and the Ministry for the Development of the Negev and Galilee.
Dr. Rachimimov reiterated, "This occurrence proves without a doubt that a regular MRI within the hospital saves lives. If we had encountered this patient before the device arrived, we would have had to track down the mobile unit and send the patient to it by ambulance with a physician at her side.
Transport of this sort causes great suffering to the patient due to the distance and motion and any delay in treatment likely endangers the life of the patient. The new MRI advances the care provided to residents of the periphery and helps WGH to close the gaps between the north and the center of the country.
Western Galilee Hospital is part of Louisville's Partnership with Israel region, and many Louisvillians have visited or received training there.