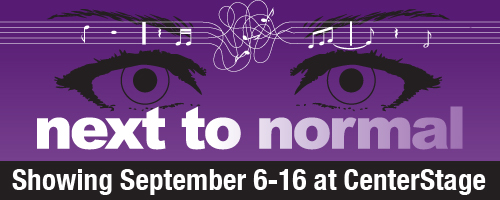 CenterStage at the Jewish Community Center continues its season of award-winning, thought-provoking theater with the regional premiere of the Tony Award and Pulitzer Prize-winning rock musical, Next to Normal, which will run September 6-16 in the Linker Auditorium, at the Jewish Community Center (3600 Dutchmans Lane).
The show takes on the challenging subject of mental illness through the story of suburban housewife Diana Goodman and her struggles with bipolar disorder and hallucinations triggered by a family trauma. When she decides to stop taking her medication, Diana is persuaded to embark on a new treatment. The troubling side effects test her already strained relationship with her daughter, Natalie, who feels overshadowed by her brother, Gabe.
Opening in 2009 to rave reviews, Next to Normal, with book and lyrics by Brian Yorkey and music by Tom Kitt, ran on Broadway for almost two years, and has the distinction of being one of only eight musicals ever to win the Pulitzer Prize for drama. It also won Tony Awards for Best Original Score, Best Performance by a Leading Actress in a Musical (Alice Ripley) and Best Orchestrations (Michael Starobin and Tom Kitt).
Directed by CenterStage Artistic Director John Leffert, with musical direction by John Spencer and choreography by Zachary Boone, Next to Normal features CenterStage veteran Melissa Shepherd as Diana; Jeremy Moon as her husband, Dan; Lauren McCombs as Natalie; Robbie Lewis as Gabe; Mitch Donahue as Henry and Mike Fryman as Doctor Madden/Fine.
Leffert says, "I had the chance to see this show on Broadway two years ago and was blown away. The heart and emotion in this piece will take your breath away. This show takes a difficult and seldom talked about subject and makes it accessible and real. Each audience member will be moved beyond belief, and I am very excited for CenterStage to present the regional premiere of this important piece of theater."
Building on the subject of the show, CenterStage will hold a special performance on Tuesday, September 11, as fundraiser for Bridgehaven, which provides community-based mental health services and was founded in 1948 by the Louisville Section of the National Council of Jewish Women. In addition, donations will be collected following each performance, to be divided among six local mental health agencies, Bridgehaven, Jewish Family and Career Services, Wellspring, Seven Counties, Brooklawn and NAMI Louisville at the conclusion of the run.
Performances are September 6, 8, 10, 13 and 15 at 7:30 p.m., and September 9 at 2 p.m. and 7 p.m. and September 16 at 2 p.m. Tickets cost $18 in advance, $20 at the door and are on sale now. Call 459-0660 or click here to reserve tickets for this exciting regional premiere.