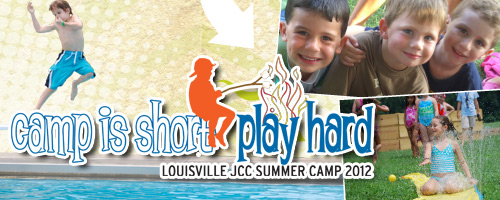 The temperature outside may still feel like winter, but spring is just around the corner. Now is the perfect time to start thinking about your children's summer plans. What summer would be complete without a week at camp?
2012 JCC Summer Camp is packed with new options for every age group. Artistic camps are popping out in 3D this year, Children in 3rd-6th grade will learn to dip, pour, twist, squeeze, cut and weave their way into creative fun with a variety of sculpting materials.
Back by popular demand, CenterStage is turning the spotlight on children in Kindergarten through 6th grade this summer, leading several specialty camps to learn the art of musical theatre. Every child will be the star of the show for a final performance at the end of the two-week camp.
It is not just the older kids who get to have fun. Campers 20 months through 4 years old can pack a bag and go traveling with Camp J-Tots. Each week the theme of camp changes, from storytelling and art to songs and cooking, children will learn through play without even knowing it!
Every child will spend time in the JCC's three pools with daily swims in the afternoon for all K-6th grade campers and swim lessons for all K-3rd graders in Camp Keff. In addition, 2-4 year olds take swim lessons and participate in free swims. All camps also incorporate Jewish values, as campers are encouraged to perform acts of kindness during camp, participate in service projects and learn about the charity of the summer.
For more information, contact Julie Hollander at jhollander@jewishlouisville.org or 238-2708.