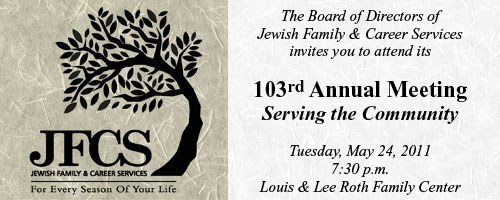 Jewish Family & Career Services will celebrate another year of service at their Annual Meeting on Tuesday May 24, at 7:30 pm at the JFCS offices at the Roth Family Center.
At the meeting, JFCS will highlight the HOP program (Health Care Opportunities), an innovative program that has provided intensive training and case management for people interested in entering the health care field while offering seniors in our community non-medical homecare at highly subsidized rates. JFCS has served almost 40 seniors with over 2500 hours of homecare this year and has placed 70 percent of the trainees in jobs.
Board members and officers for the coming year will also be elected at that time. Board nominees are Bruce Belman, Shellie Benovitz, Marc Charnas and Ayala Golding.  Officer nominees are Debbie Friedman, president-elect, and Stephanie Mutchnick, vice president.
Continuing executive committee members are Mark Ament, president; Sandi Friedson, vice president; Hunt Schuster, treasurer; Marty Margulis, Jay Klempner and Barbara Goldberg.
The nominating committee, chaired by Jay Klempner, included Mark Ament, Sandi Friedson, Lance Gilbert, Peter Resnik, Reed Weinberg and Barbara Goldberg.
The Board will publicly thank and honor those retiring Board members, Reed Weinberg, Marsha Roth and Brian Segal.
The community is invited to the JFCS Annual Meeting and the dessert reception following.