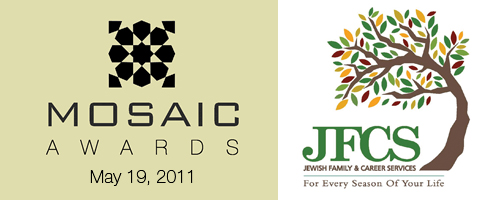 Jewish Family & Career Services will recognize five individuals who have immigrated to the United States and made significant contributions to their profession and to our community at their sixth annual MOSAIC (Multicultural Opportunities for Success and Achievement in our Community) Awards event at the Henry Clay Hotel on Thursday, May 19, at 5:30 p.m.
Among this year's honorees are Paul Gerrard, Director of Corporate Affairs and Chairman of Corporate Social Responsibility at Humana, Inc. and Suhas Kulkarni, owner/operator of three information technology companies.
Gerrard moved to the United States from London, England, where he had a distinguished career in politics and advertising, in the mid-1990s. He understands the culture of this country and has been a leader in the public, private and volunteer sectors in Europe and in North America. Fluent in three languages, he chaired the city of Louisville's International Affairs Advisory Council.
His expertise lies in strategic planning, cross-functional team leadership and marketing/communication, and he has successfully provided solutions to operational and communication challenges in high-profile industries. Since 2005, he has acted as Humana's agent for change by reframing and redesigning key facets of the company's long-term role within healthcare. Prior to joining Humana, he was vice president of marketing for The Frazier History Museum's start-up team.
Gerrard is dedicated to his volunteer activities with Louisville's immigrant community. After the closure of the Office of International Affairs, he worked with Greater Louisville Inc to eventually found the Greater Louisville International Professionals to benefit immigrant professionals and entrepreneurs. He currently serves on the board of the Louisville Ballet, and has been a member of the Louisville Medical Center Development Corporation, the Arts, Cultural Assets and Parks Advisory Panel for Louisville Metro's External Agency Funding, the Advertising Federation Board and the Board of Advisors of the Kentucky World Trade Center. He is an Aspen Institute Fellow and a Milken Institute Associate.
Honoree Suhas Kulkarni, a native of India, moved to Louisville 1985 so his son could attend the Depaul School. He found the country in the midst of a recession and with jobs at a premium, he used his entrepreneurial skills to buy and run a grocery in Germantown. He started Omnitrade International, a business involved with industrial mining and earth moving equipment, in the back of his store, and in 1991, he established the IT company Omnisys. His firms have introduced more than 100 immigrants to our community.
Kulkarni continues to mentor and encourage immigrants to give back to the community both economically and civically. He believes in leadership through involvement and currently serves as chairperson of the Indian Professional Council of Kentucky, is president-elect of the Crane House, the Asia Institute, and serves on the boards of the World Affairs Council of Kentucky and southern Indiana, the Bernheim Forest and Arboretum and the Louisville Science Center, and was chairperson and on the board of the Vogt Awards.
Over the past 25 years, Kulkarni has received various awards including the U.S. Small Business Association's Small Business Person of the Year Award and was part of the Kentucky delegation to the White House Conference on Small Business. He is heading the newly created Metro Government Office for Globalization, which was created to support local immigrant communities and help local businesses to find opportunities abroad.
This year's honorees also include Leon Wahba, who was born in Egypt and  is a retired international banker and volunteer leader with the Jewish Community of Louisville; Miguel Lagunas, from Mexico, is a retired electrical engineer and founding member/volunteer leader of many Hispanic/Latino community organizations; and Saleem Seyal, M.D., of Pakistani descent, is an associate clinical professor of medicine at the University of Louisville School of Medicine, an interventional cardiologist and senior partner at River Cities Cardiology and medical director of preventive cardiology at Clark Memorial Hospital.
Individual tickets for the MOSAIC Awards are $100 per person and many levels of sponsorships are available. Tickets can be ordered online at www.jfcslouisville.org. For more information contact Beverly Bromley at 452-6341, ext. 223.
Additional information can also be found at www.jfcslouisville.org.
[by Phyllis Shaikun]