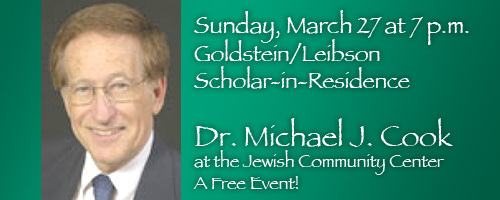 The 2011 Goldstein/Leibson Scholar-in-Residence lecture will be this Sunday, March 27, at 7 p.m. at the Jewish Community Center. Dr. Michael J. Cook, a professor of Judeo-Christian Studies at Hebrew Union College, will present "Jews, Jesus and 'Gospel Dynamics': The Future Is No Longer What It Used to Be."
This program is free and open to the public.
The Goldstein/Leibson Scholar-In-Residence program presents nationally recognized scholars and educators who lecture on a variety of Jewish themes and subject matters. The program is underwritten by funds established at the JCC and the JCL's Foundation for Planned Giving by Nicole and David Goldstein and Phyllis and David Leibson.