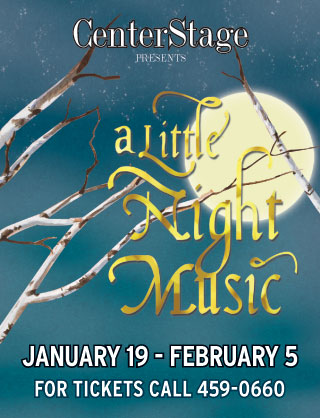 [by Karen Abraham]
A Little Night Music at the Jewish Community Center's CenterStage brought in a full house to a tremendous production on its first Saturday night. It could well be described as an evening of bawdiness cloaked in a facade of elegance.
This delightful musical, with lyrics and music by Stephen Sondheim, is a delight to the senses. The set was simple, which made set changes quick and flexible. The music was beautifully done by both the musicians and cast. "Send in the Clowns" brought in a touch of nostalgia as the piece, which was recorded by Judy Collins, Barbra Streisand and many others, was beautifully performed with a great depth of emotion. The period clothing was exquisite and a pleasure to the eye.
The plot revolved around the various classes in the early 20th century in Sweden and the romantic involvements of six couples. It includes a delightful assortment of twists and turns.
The audience obviously enjoyed the performance providing much applause and a standing ovation. A definite must see! The show runs through Sunday, February 5, so get your ticket before it sells out.
Plan now for CenterStage's Season Extra, Patsy Cline: A Life in Concert, with Melissa Kenney Shepherd, back by popular demand. There will only be four performances of this special show from February 14-19.