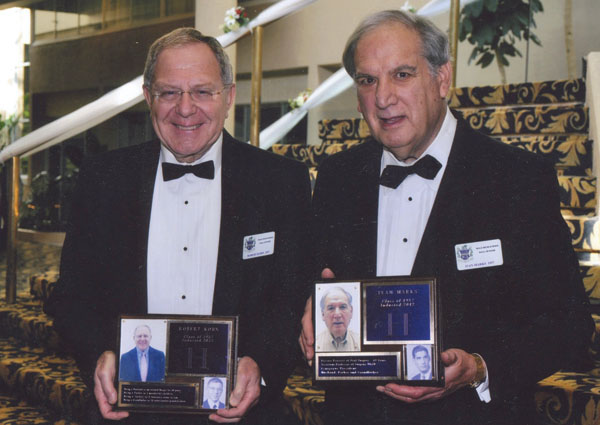 When Male High School inducted new members into its Hall of Fame on September 30, Robert A. Kohn and Ivan Marks, both members of the class of 1957, were among the honorees. Both were recognized for their service to both the Jewish and general communities.
After graduating from Male, Kohn earned his B.A. in political science from the University of Louisville and his J.D. from the Brandeis School of Law. He also did graduate studies in tax law at New York University.
An attorney-at-law, Kohn has been admitted to practice in Kentucky, at the Kentucky Supreme Court, the U.S. District Courts for Eastern and Western Districts, the U.S. Court of Appeals 6th Circuit, the U.S. Supreme Court and the U.S. Tax Court. He is a fellow of the American College of Trust and Estates Counsel, past chair of the Louisville Bar Association Taxation Committee and is a lifetime member of the University of Louisville Board of Overseers.
Kohn is a past president of the Jewish Community Center and Keneseth Israel Congregation. He is a member of the Boards of the Jewish Hospital Foundation, NBD Bank of Jeffersonville, the Jewish Community Centers of North America, Senior Citizens East and the Jewish Community of Louisville's Endowment Fund. He also served on the Board at Four Courts.
Kohn and his wife, Margie, have four children and three sons-in-law, Joan and Craig Lustig, Gary and Lois Claar, David Kohn, and Denise Kohn and Adam Blank; and 10 grandchildren.
Marks earned his DMD from the University of Louisville and a certificate in Oral and Maxillofacial Surgery from Bronx Municipal Hospital Center.
Today, he is a senior partner in the Oral & Maxillofacial Surgery practice, past president of both the Louisville Society of Oral and Maxillofacial Surgeons and the Kentucky Society of Oral and Maxillofacial Surgeons. He is an assistant professor of oral and maxillofacial surgery at the U of L School of Dentistry, a diplomate on the American Board of Oral and Maxillofacial Surgery and a fellow of the American College of Oral and Maxillofacial Surgeons.
Marks has also published a number of professional articles in national oral surgery journals and Kentucky Dental Society publications.
He is a past winner of the Lewis W. Cole Young Leadership Award from the Jewish Community Federation, the B'nai B'rith Man of the Year and the Israel Bond Award. He is a past board member of both the Federation and the Jewish Community Center, and a past president of Keneseth Israel Synagogue.
Marks and his wife, Lois, have two daughters and two sons-in-law, Alyson Marks Greenfield and her husband, Avi, and Caryl Syd Hemmer and her husband, Todd, and five grandchildren.