[by Shiela Steinman Wallace, Editor,  and Ben Goldenberg, Marketing Director]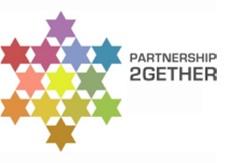 Over the years, the connection between the Louisville's Jewish community and its Partnership 2Gether region, Israel's Western Galilee, has enriched the lives of participants on both sides of the ocean with opportunities to experience each other's culture and build close friendships even though physical distances are great.
From April 26-28, Louisville hosted a delegation of four visionaries and the arts and community coordinator from the Western Galilee and once again got a taste of the richness Partnership brings.
The community welcomed visionaries Shelley-Anne Peleg, Israel Antiquities Authority's Director of the International Conservation Center located in the old city of Akko; Susan Nirens, Assistant Director of the non-profit organization Kivunim: New Directions; Uri Jeremias, chef, restaurateur, entrepreneur, hotel owner and developer; and Sisi Rodan, Curator at the Treasures in the Walls Ethnographic Museum in Old Akko. Noa Friedman-Epstein, Partnership 2Gether's arts and community coordinator, accompanied them.
The visionaries were in Louisville as part of the Arts Task Force. Their goal was to bring leaders and innovators in their fields in Israel together and connect them with their counterparts in the Central Area Consortium communities on a personal level.
Jon and Laura Klein, Mark and Betsy Prussian, Jonathan and Janet Hordes, Ora Frankel and Howard Lazarus and Ralph Green and Shellie Branson hosted them. When they arrived, the Klempner family hosted an event for 45 people highlighting the work of Kivvunim. The visionaries met with Hillel students, representatives from Goodwill, Home of the Innocents. A group also prepared a unique Shabbat dinner for Chef Jeremias at his hosts' home.
The highlight of the weekend was a special brunch billed "Farm to Table: Israel to Louisville," for which Chef Jeremias teamed up with Chef Tyler Morris of Rye to create a seven course tasting extravaganza.
For the rest of their time in Louisville, the visionaries met local people, some of whom had similar interests, and shared their stories. On Friday night, they split up and spoke at three different congregations during Kabbalat Shabbat services.
Before they left, they spoke with Community. Each visionary was passionate about his or her work and eager to share information.
Peleg helps run an international training program for adults who are interested in the field of historic preservation and restoration. "We bring in people from all over they world," she said. "They study with us for six months."
The first two months are spent in Akko, and then they travel to other locations in Israel where they can acquire other skills. "The entire country is my playground," she said. Akko and the Western Galilee serve as the base for the program, but Peleg's students can be found working in the Kotel tunnels and putting together pottery in Cesarea.
Her students have even been able to enter the special labs where the Dead Sea Scrolls are kept. "It's exciting to read the Shema on the old parchment," she said. "It can be a life-changing experience."
Peleg's purpose on this trip was to recruit young adults from the Partnership into the program. She's also exploring the idea of creating an opportunity of a 10-day educational program for mid-career and older adults that would "open up the back stage of Israel" for them with specialized visits to the aqueducts in the Western Galilee and the monuments in the old city of Akko.
Peleg spent most of her time on this trip meeting curators in museums and preservationists. She also met with professors "to try and work out new frameworks to open options for young students in any field."
For Jeremias the trip was about building relations and countering disinformation about Israel. By getting to know people under normal, everyday circumstances, he said, people get a very different picture of Israel than they get from the newspapers and television.
In Louisville, Jeremias cooked with Chef Tylor Morris at Rye. "I spent two days in his restaurant," he said, "and I was very impressed with the operation, the raw materials, the kitchen and how it functions. It was a great experience for me."
He described Rye as a first-rate restaurant where everybody was helpful and friendly. "We didn't have much chance to talk about other things because we were working," he said.
Jeremias hopes he will have the opportunity to talk with Morris again and hopes the Louisville chef will visit him in Israel. He also hopes the group's visit to Louisville and two other Partnership cities – Canton and Omaha – will spur a renewed interest in Israel and the Western Galilee.
Rodan said, "food and art are a beautiful way to connect people" this trip was a positive one. She enjoyed meeting artists in the U.S. and brainstorming. In Louisville, she met with Slava Nelson at the JCC, and after 10 minutes, the two of them had many ideas for future collaborations. "Even though I didn't meet the artists here," Rodan said, "she has so many ideas."
She enjoys coming to the communities, making connections, seeing faces and getting to know the people, and she hopes this trip will lead to "more communication and plans we can do together."
Rodan hopes many of the people she met will visit her museum. "It's not an art museum," she explained, but it presents information about daily life in Israel including furniture and other artifacts.
Nirens wasn't available for the group interview, but she spoke passionately about her Kivunim program at Temple Shalom on Friday night. Kivunim offers young adults with disabilities the support they need to maximize their potential and live as independently and normally as possible. Friedman-Epstein deemed this delegation's visit a success. "I believe this is just the beginning," she said, "and I hope we will have more and more of this kind [of exchange]."
The entire group thanked the community and the host families for their welcome and hospitality and invited Louisvillians to visit them in Israel.
{gallery}Community/2013/052413/visionaries_final{/gallery}