Alternative Spring Break program takes Louisville Hillel students to Israel
[by Ben Rubenstein, President, Hillel, University of Louisville]
"An American, Hungarian and Israeli walk into a bar …."
What normally would sound like the beginning of a terribly insensitive joke actually turns out to be an amazing introduction to the Partnership 2Gether Alternative Spring Break trip to Israel that I had the pleasure of being a part of this March.
For eight amazing days, I was able to join students from the University of Louisville, University of Texas, and Western Galilee College, along with students from various institutions in Budapest, Hungary, as we did service throughout the Western Galilee area.
Unlike many service trips, where the volunteers work with one organization for the entire trip, the Partnership 2Gether experience exposed us to multiple organizations and causes, all of which dealt with different socioeconomic issues facing the area. This approach allowed a wide array of special interests to be displayed, which ensured that all of us on the trip got to experience projects for which we had particular passion, as well as those we might not have ever thought to do.
The programs, which varied from painting with at-risk youth to cleaning an ancient aqueduct, were full of extraordinary people who welcomed us as guests and friends. The days were exhausting but equally rewarding.
It was inspiring to see the stacks of boxes and bags of food we put together so less fortunate families could have Passover; rewarding to be swarmed with hugs from children after an afternoon of sports and painting; and humbling to hear the stories of the handicapped Israelis who are completely in love with life despite the everyday struggles they face. Each and every program showed us the real issues and people of the Western Galilee and gave us encouragement to undertake the same amazing service projects into our home communities.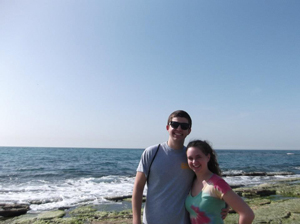 Paired with the rewarding service work were educational programs. A tour of the border with Lebanon, a visit to the moving Ghetto Fighters Holocaust Museum and a discussion with a Hungarian Holocaust survivor, along with a conference on Holocaust academia and a stop in the Ayalim student village were a few of my favorite educational experiences. However, it is important to say that while some of the events during the ASB weren't official "educational" programs, there was not a single moment that went by that all of us were not learning things about ourselves, the group, Israel, and what it means to be a Jew.
It is incredible how close the 30 individuals who were a part of the ASB experience came to be. I cannot sit here and pick out a favorite event or specify when the group went from strangers to family, but what I can say with confidence is that each and every one of the participants was changed by the week we had together. So, as I am sure you have been eagerly anticipating for the length of this article, I give you the punch line of my joke, "… and they had the time of their lives."
Editor's note: In addition to Ben Rubenstein, Louisville Hillel students Bailey Haskell and Josh Latzko participated in the Alternative Spring Break program. Their trip was funded through Partnership 2Gether, Hillel and private donations.