[by Phyllis Shaikun]
Each year the Center for Women and Families (CWF) names a number of women to be honored as Women of Distinction at their annual Celebration of Service & Survival dinner and program. This year's event, the 25th anniversary in the series, will honor Kentucky First Lady Jane Beshear, Carolle Jones Clay, Connie Fox, Diane Graeter, Kimberly K. Greene and Lindy B. Street on Thursday, February 16, at the Louisville Marriott Downtown.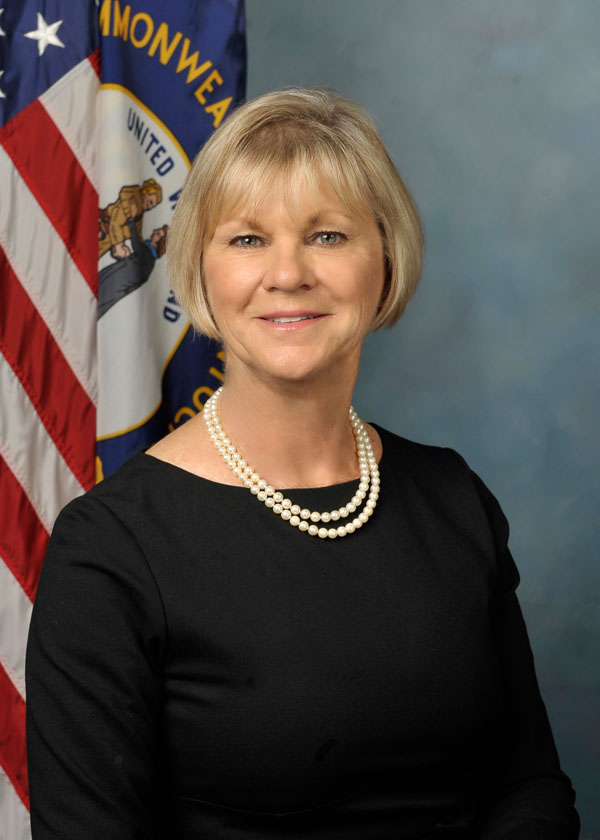 Beshear is a businesswoman, educator and community leader who has dedicated her life to the service of others. As First Lady, she has addressed the issue of breast cancer through her Horses & Hope initiative and championed school dropout prevention programs through Graduate Kentucky. She hosts the Shop and Share program that collects food from Kroger stores statewide to benefit Kentucky Domestic Violence Association shelters, is an ex officio officer of the Kentucky Commission on Women, an honorary chair of Generations United Seniors4Kids and a board member of Recovery Kentucky that helps addicts lead normal, healthy lives.
Clay is vice president managing director – Community Relations in the Marketing Department at Republic Bank, where she oversees community relations and the bank's Special Events Department. A member of the Louisville Jaycees since 1979 and of Junior League since 1987, she served on the League's board for many years, chaired the Kentucky Derby Festival Board in 2004 and served on the boards of the Kentuckiana Girl Scouts and Women4Women, which is dedicated to improving the economic self-sufficiency for women and families through education, health and advocacy. She currently is involved with a number of boards, including the Main Street Association, Actors Theatre, the Louisville Downtown Development Corporation, the Spirit of Louisville Foundation – Bell Awards program and Girlfriends and The Moles, African American Women's organizations.
Greene is an attorney whose legal career has been devoted to First Amendment freedoms, representing newspapers, including the Courier-Journal, and Kentucky Press Association. She helped organize the Kentucky Coalition for Open Government and for most of the past three decades has been involved with Planned Parenthood of Kentucky. She led a fundraising campaign to construct the mortgage-free building the organization uses in downtown Louisville, and has been involved with several teen pregnancy-prevention organizations as well as the Family Scholar House Inc, and the Spouse Abuse Center Advisory Committee.
Street has worked in public relations, marketing and management for First National Bank, Humana and Columbia/HCA. She is a founding member of Women4Women. A cancer survivor, she understands the need for top medical care as well as a strong support system for patients and their families and is a founding member of Gilda's Club of Louisville. She also is a member of the University Medical Center board and serves on the executive committee for the Muhammad Ali Center.
For 15 years, Fox and Graeter served as co-chairs of the National Council of Jewish Women, Louisville Section's Court Watch Project. They successfully led the efforts of nearly 200 volunteers in a multi-year undertaking that studied the outcomes of local domestic violence cases based on extensive courtroom observation by volunteers. They compiled a substantial body of statistical research that was analyzed and presented in multiple in-depth analyses. Their conclusion: the local court system needed significant restructuring to better protect domestic violence victims.
For several years they advocated for a separate court docket for hearing local domestic violence cases, and their passion and persistence led to the Jefferson District Court instituting a specialized, enhanced supervision docket for domestic violence cases. The dramatic success of this approach in reducing the incidence of repeat offenders led to a significant expansion of the program last year. They were also influential in creating and eventually expanding the Domestic Violence Intake Center in District Court, which serves as a one-stop-shop to care for the needs of victims of domestic violence.
In addition to their local efforts, Fox and Graeter have played key roles in establishing similar domestic violence prevention programs in other communities and have conducted volunteer training seminars in more than 100 communities.
"I was surprised and deeply honored to receive this recognition," said Connie Fox, when she was notified about the CWF Woman of Distinction acknowledgement. "I certainly never thought about receiving accolades for what Diane and I have done since we felt it was not about us, but about NCJW seeing a need, going after it and implementing change. It is an overwhelming joy for me to say that besides being a wife and mother, my life counted for something – I made a difference."
Fox has been a volunteer with the American Cancer Society, served as vice president of community services for NCJW, sat on the boards of the Jewish Hospital Women's Guild, the American Heart Association and Jewish Family & Vocational Services and has been an active member of Al-Anon for 30 years.
Graeter called it a "wonderful shock" to find out she was being honored by the Center for Women and Families. "I just wanted to help," she says. "Connie and I are an example of how two very well-intentioned volunteers working together with the enthusiastic support of NCJW members can bring about fundamental change. It took three key ingredients to make it work: the passion to find a need and make it better; the persistence to take on a full-time commitment for advocacy; and a partnership, so when one of us hit a dead end, the other was there."
Graeter is a board member and former vice president of public affairs for NCJW and currently serves as a member of the Fatality Review Subcommittee of Louisville Metro Government's Domestic Violence Prevention Coordinating Committee. She is active with the Loaves and Fishes Ministry, Aunt Mary's Storybook and MOPS International, and is a member of the Women's Board and Eucharistic minister at the Episcopal Church Home.
Tickets for the Women of Distinction events cost $175 each. For information contact www.thecenteronline.org; for reservations call 581-7207 or email phoebe.lipkis@cwfempower.org.