[by Shiela Steinman Wallace]
Jewish Cultural Diversity Week, Shavua Tov!, offered University of Louisville students and the community the opportunity to experience a sampling of Jewish and Israeli culture from November 14-20.
The festivities kicked off on November 14 at the Brandeis Law School with a lecture by Prof. Eran Kaplan, the Rhoda and Richard Goldman Chair in Israeli Studies at San Francisco State University, on "Tel Aviv's Tent City and the Future(s) of Zionism."
Israel is currently experiencing some social protest this year. It started with a challenge to the high price of cottage cheese and wound up with about five percent of Israel population protesting the high cost of housing and seeking relief from economic hardship and social justice.
He then traced Israel's evolution from the secular, self-sacrificing pioneers who started the collective movement before the establishment of the state through the changes wrought by war and other societal changes to the complicated, multilayered modern country Israel is today.
U of L Associate Professor of Philosophy Avery Kolers introduced Kaplan.
People gathered in The Ekstrom Library's Chao Auditorium on November 17 for a screening of the popular Israel HBO comedy "Arab Labor." Rabbi David Ariel-Joel of the Temple facilitated a discussion afterwards. The series explores how members of Israel's Arab minority cope with work and life.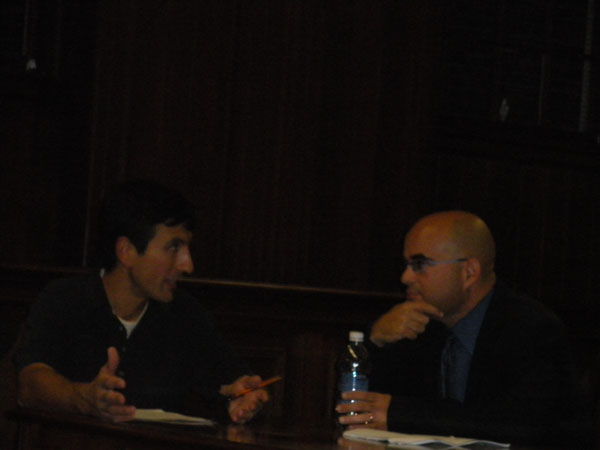 On November 19, the venue shifted to the School of Music's Comstock Hall where the Montreal-based klezmer band Shtreiml took the stage and delivered a rousing two-hour concert. Using a harmonica, trombone, electric guitar, electric bass guitar and a drum set, augmented from time to time with piano, the group delivered a mix of pieces that successfully combined klezmer motifs and rhythms with rock.
Their repertoire included many original pieces. The musicians demonstrated tremendous skill on their instruments that earned them and encore. Of particular note was Jason Rosenblatt, who coaxed startlingly clear tones out of his harmonica, often playing with tremendous speed and energy; and Thierry Arsenault who let everyone know how much fun he was having with his ever-present smile while he displayed his mastery of a variety percussion instruments, balancing restraint with enthusiasm.
The week concluded with Kosher for a Day Café at Smokey's Bean. In addition to a selection of kosher foods, patrons were treated to an additional performance by Shtreiml, as well as sets by the Lost Tribe and the River City Klezmer Band, and pieces by U of L music students and faculty members interspersed with readings by local creative writers.
The café served only kosher food for the entire day, cooked and supervised by members of Chabad of Kentucky. Heidi Howe facilitated free sessions of Weerock music for kids, and a Bouncy Castle and arts and crafts and games were provided.
Shavua Tov was sponsored by the University of Louis-ville's Humanities Division, the Commis-sion on Diversity and Racial Equality, the Commonwealth Center for Humanities Society and the Vice Provost for Diversity, along with Chabad of Kentucky, The Temple, Congregation Adath Jeshurun, Keneseth Israel Congregation, Toonerville Trolley Old Louisville Neighborhood Association and the Jewish Community of Louisville's Community Relations Council.
Dr. Natalie Polzer from U of L's Division of Humanities coordinated the program.