[by Michael Klein]
This year Kefiada brings three creative and enthusiastic Israeli teens and their chaperone to Louisville to share their culture and language with the community. The participants are Idan Aviv, Nofar Ratzon, Dana Kahana and their chaperone Esti Waismen.
They will be spending most of their time working as summer camp counselors at the Jewish Community Center and planning activities for the campers. They also will be learning from their fellow counselors and host families. In addition to working at camp, they plan to ride horses and visit Kings Island, the Muhammad Ali Center, Mammoth Cave and the Louisville Zoo.
Some of the activities the teens have planned for campers include featuring a Hebrew word of the day, teaching about the source of Hebrew and Eliezer ben Yehudah (who developed the language), baking Israeli challah, discussing life on a kibbutz, and explaining about Israeli beliefs and the meanings of various symbols such as the Israeli the flag and the hamsa.
Aviv made a map of Israel with information cards so campers could label specific locations. Waismen said "We also will teach kids how to milk a cow using a latex glove. The campers will hear about some Israeli Defense Force values such as not leaving anyone in the field and working together as a team."
Aviv lives in Akko and says, "I am here because I want to improve my English and see another place." Ever since he was a child, he wanted to be in the United States because he is interested comparing the two countries.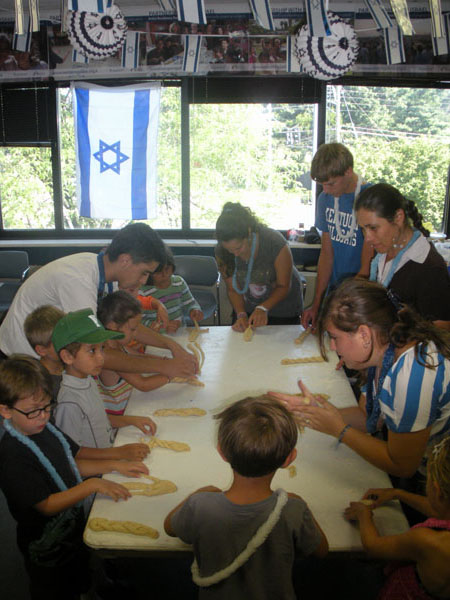 Ratzon lives in Moshav Oshrat, and says she likes to travel and meet new people. Kahana lives in Kibbutz Beit HaEmek. She says, "I came because of the experience of getting out of my home and country. Everything is different here – the language and the people."
All three teens agree that this trip, their first to the U.S., offers a chance to have a new experience and explore their feelings at the same time. Waismen, the mother of four, says she is here to build a connection with other Jewish people "so they will know someone in Israel."
Kefiada's purpose is to bring Israel to Louisville. The Israeli teens decorated a room in the JCC with pictures and symbols that represent Israel and made a sign for the door with their Hebrew names. As the kids walk in you could see them looking at the pictures and pointing out various pictures with amazing scenic views.
An important part of the trip is to teach people that the Israeli lifestyle is not everything you hear about in the news.  Ratzon acknowledged that Israel "doesn't always look good to people from other countries since they mistakenlyt hink we are a third world country, which we are not – we are very technologically advanced."
The Jewish Community of Louisville has been an active participant in the Partnership program since its inception in 1997. Kefiada is part of the Partnership with Israel, a Jewish Agency for Israel program designed to promote personal relationships between the Central Area Consortium members and Israel's Western Galilee.
This year's host families included Cindy and Matt Schwartz, Margie and Michael Kommor, George Polar and Michael Gold, Amy and Bill Ryan, Lisa and Jeff Lanzet, Robin and Steve Stratton and Kim Hales.
The Central Area Consortium includes Akron, Canton, Dayton, Toledo and Youngstown, OH; Indianapolis, Northwest Indiana and South Bend, IN; Louisville; Des Moines, IA; Omaha, NE; and Austin, Dallas, Ft. Worth, San Antonio and Waco, TX.  The Western Galilee region includes the cities of Akko and Matte Asher.
{gallery}Community/2011/072911/Kefiada{/gallery}