There are plenty of things for kids to do at the Jewish Community Center.
With the school year drawing to a close, your children, from 16 months old through 9th graders are sure to find the right JCC camps programs for their interests all summer long.
General camps for preschoolers and K-3 include swim lessons, free swim/water play, art, sports, movement, dress up days, special events and more.
There are also specialty camps for children in K-6. Choose from theater, dance, art, Legos, horseback riding, basketball, soccer, football and travel. Middle schoolers can choose from travel, community service and adventure camps.
All camps also incorporate Jewish values, as campers are encouraged to perform acts of kindness during camp, participate in service projects and learn about the charity of the summer.
Summer Camp staffers are dedicated and responsible individuals who work hard to ensure the safety and wellbeing of their charges while creating the magic that is camp.
The JCC is the place to be during the school year, too. When the Jefferson County Public Schools are closed, the JCC is open with fun and exciting activities for children to enjoy. Each School's Out Day has a different theme, but all include sports, arts and crafts and swimming.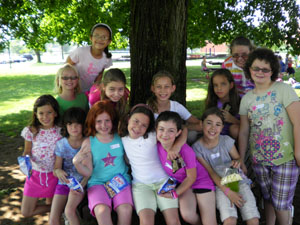 During the school year, Family Gym and Kid's Club are free to all members after school; and fun activities and sports await everyday.
JCC Summer Camp starts Monday June 13.
Check out the camp video, download the full camp catalogue and find more information by clicking here or contact Julie Hollander, jhollander@jewishlouisville.org or 238-2708.
Enroll you child today. The camps are filling up quickly and Craftrageous K-2, Motor Mania 2-3 and Motor Mania 4-6  have already closed and several others are almost full.