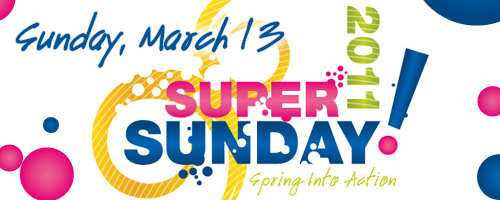 Sign Up for Super Sunday Today. Super Sunday is March 13, and the chair of this year's telethon for the Jewish Community of Louisville's Annual Campaign, Barbara Franklin, encourages members of the community to spring into action and get involved.
"Jews have always excelled in volunteering and helping others," she said. "What better way is there to do that than to join in on the very important message we send during Super Sunday plus have a lot of fun doing it."
That important message is that as a Jewish community, we provide the programs and services our Louisville Jewish community needs; we support Israel; and we are part of the Jewish world at large, taking care of Jews-at-risk wherever they may be.
"Super Sunday is a wonderful multi-generational event," Franklin said, "and it can be a great opportunity to connect with the Jewish community."
Choose the shift that works best for you: 9:30 a.m.-12 p.m., 11:30 a.m.-2 p.m. or 1:30-4 p.m. There will be no evening shift to make it possible for people to attend the 40th Annual Adath Jeshurun Music Festival at 7 p.m.
The first half hour of each shift is training, and lots of information is available about what dollars raised by the Campaign do.
"Super Sunday is a world-wide event," Franklin said. Jewish communities across North America raise money through federation campaigns, joining those other countries.
Here in Louisville, the JCL Annual Campaign funds Jewish education for children across the community, and ensures that Jewish Family & Career service can provide counseling and employment services on a sliding scale to families and individuals who cannot afford the full fees.
The Campaign also ensures that the JCL continues to move forward along the path that was begun with the merger of the Jewish Community Center and the Jewish Community Federation. This year, new leadership was hired including President/CEO Stu Silberman, CFO Jamie Pillsbury and Middle School Director David Siskin.
JCL programs and services were reorganized and a point person was identified for each age group. New and revitalized programming is reaching middle schoolers, teens and young adults. The Jewish Community Relations Council is the advocate for the Jewish community in the public sphere and Hillel is a strong presence on campus at the University of Louisville and throughout the metroversity area.
Internationally, thanks to our efforts:
Jewish communal institutions in Cuba have been rehabilitated, there are opportunities for Jewish study and worship, and a community pharmacy operates in Havana.
The Ariel Job Center has opened in Porto Alegre, Brazil, to provide job training and placement and workshops are available for small Jewish communities in the country's interior.
In Belarus, elderly Jews receive urgent medical care, home repairs and winter relief and there are summer camps for children with disabilities.
Louisville's connection with the Western Galilee region of Israel continues to flourish through exchanges in medicine, education, the arts, business and more.
So Franklin calls on you to join the fun, take advantage of the opportunity to network with your fellow Jewish community members and invest a little time in performing this mitzvah for our community.
There will be plenty of prizes, fun, candy and food.
Sign up for the shift of your choice today. Fill out this form or e-mail mjtimmel@jewishlouisville.org.