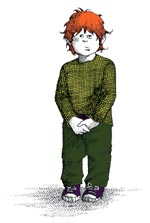 Alexander is having a bad day.  A terrible day.  A horrible day.  To be quite honest, it's a terrible, horrible, no good, very bad day.  Not only does Alexander wake up with gum in his hair, but his mother forgets to pack him dessert, his brothers don't have cavities, but he does.  And just when it can't get any worse, there are lima beans for supper. YUCK! But then, everybody has bad days sometimes.  Alexander's struggles with life's daily dramas will not only entertain, but educate young audiences as they identify with Alexander and the obstacles he encounters, encouraging them to share their feelings and to realize that bad days happen…even in Australia.
Show was commissioned and premiered by the John F. Kennedy Center for Performing Arts.
Performances
CenterStage Acting Out will be taking booking reservations for Alexander and the Terrible, Horrible, No Good, Very Bad Day between March 5, 2012 and May 11, 2012.  The show is available Monday though Friday between the hours of 9:30am and 2pm.
For Pricing, Reservations and any other questions contact Chris Bryant, CenterStage Acting Out production Coordinator at 238-2763 or cbryant@jewishlouisville.org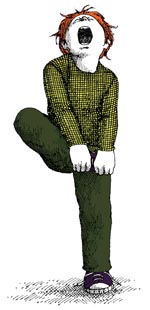 Mission & Goal
To develop and nurture students of all ages through the creativity and appreciation of theater.
To Explore the beauty, diversity and challenges of the world around them through the dramatic process
To encourage the development of their own creative voice and imagination.
To understand drama and its role in society
Educational Themes
Content suitable for grades K-5
Social Themes
Acceptance
Coping skills
Managing different and conflicting emotions
Storytelling
Means of teaching
Means of expression
Through music and dance
Suggested activities, lesson plans and study guides are available upon request.