It's been 28 years since the Crown Heights Riots scarred relations between blacks and Jews. For many, that wound has never healed.
But some small act of healing begins tonight as the      University of Louisville Department of Theatre Arts presents Fires in the Mirror, a play about the riots, and their fallout, by Anna Deavere Smith, in the Thrust Theatre.
The production will run through Nov. 17.
Fires in the Mirror explores the 1991 riots in the Crown Heights section of Brooklyn from several perspectives – black and Jewish. The purpose being, according to its director, Ariadne Calvano, that different people can see the riots and their effects in different ways.
There can even be different viewpoints within the black and Jewish communities.
"There's more than a African American or a Jewish perspective," Calvano said. "That's the thing about this play; it's challenging us to see beyond the perspective we were raised in."
The riots, which lasted from Aug. 19 to 21, 1991, was sparked by an incident in Crown Heights when a car driven by Yosef Lifsh, a Hasidic man, jumped a curb, killing Gavin Cato, a 7-year-old black Guyanese boy. Gavin's cousin, Angela, also 7, was injured in the accident.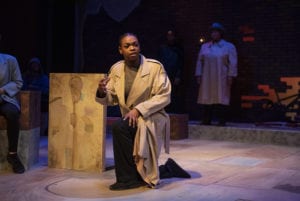 The car was part of a motorcade for Rebbe Menachem Mendel Schneerson, the spiritual leader of Chabad-Lubavitch Judaism.
In the ensuing three days of violence, Yankel Rosenbaum, a Hasidic rabbinical student, was stabbed to death in an apparent act of retaliation.
In all, more than 600 people took part in the rioting, which resulted in numerous assaults, two shootings of motorists and eight officers wounded by snipers, the Forward reported.
The riots exposed long-simmering tensions between the two communities. As Time magazine reported at the time: "There is little common ground between the two groups. Nor have leaders from either side reached out to the other in an effort to defuse the situation. Instead they have engaged in a bitter public debate in which heated rhetoric far outweighs the language of reason and compromise. While blacks speak of apartheid, Lubavitcher leaders evoke visions of pogroms and Kristallnacht."
It is from those silos that Smith's play encourages the two communities to emerge and engage.
Originally written as a one-woman play, with Smith, who is black, portraying 26 different roles, this performance will include eight actors, each giving voice to three different characters of differing races, genders, ethnicities, classes and religions.
"I began the process with a question: Can we ever truly understand something from another person's point of view?" Calvano said.
Janna Segal, assistant professor of theatre arts at UofL and the dramaturg for this play, said the production has prompted her to consider different perspectives within her own community.
"I learned about the Lubavitch faith and culture doing research for the show, but I wasn't raised in the community itself, even though I am Jewish," Segal said. "I still have to learn and cross the bridge to   understand, even though I'm under that larger [Jewish] umbrella.
"There are differences in our collective experiences," she added, "and we should respect those differences."
The play will use technology to harvest audience input to the issues it poses. The app "Poll Everywhere" will gauge real time audience perspective throughout the performance.
The department also is hosting two post-show panel discussions, which Segal will lead. The first, on Nov. 8, will feature theater artists sharing how Smith's work has influenced them. The second, on Nov. 14, which will include Rabbi David Ariel-Joel of The Temple; Cathy Hinko, executive director of the Metropolitan Housing Coalition, and Marian Vasser, UofL director of diversity education and inclusive excellence, will look at how the play resonates with Louisville today.
Want to go?
Thrust Theatre is on UofL's Belknap Campus, 2314 S. Floyd St. All plays start at 8 p.m. with 3 p.m. Saturday and Sunday matinees. Tickets are $20 for general admission and $15 for seniors and students. Season tickets are $50. Call the box office at 502- 852-6814 or click here.