Sara's View
Sara Klein Wagner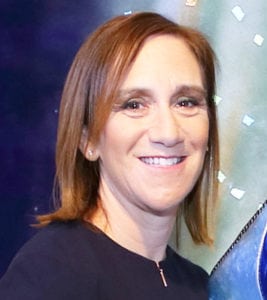 (Editor's note: This month's Sara's View was co-authored by JCL Board Chair Jon Fleischaker.)
This year marks the 10th anniversary of the Jewish Community of Louisville, bringing together two legacy organizations — the Jewish Federation and the Jewish Community Center. I can't think of a better time to reflect on this past decade, who we serve and why.
This past year, we hosted Avraham Infeld, a respected thought leader in the Jewish world. He challenged our leaders to focus on the "continued renaissance of the Jewish people by serving their communal needs."
Infeld reminded us that the great challenge in setting a Jewish table is to be "unified without being uniform."
Your JCL aspires to follow Infield's charge every day, specifically by providing Jewish Louisville a place and opportunities to explore, question and feel like family.
During Infeld's visit, he focused on our transformational project: building the next J on a full campus. This monumental project has been a significant part of our focus this past year. Countless hours have been spent planning the space and architecture of our next home, the leadership phase of the capital campaign fundraising and time with generous donors who are committed to helping to bring our shared dream to reality.
"The J must be a center for lifelong education that encourages asking questions," Infeld said, "an intergenerational place where young and old model the pursuit of education for children; and an interdenominational setting where Jews can see what unites us more than what divides us."
The JCL, through the work of the Federation, The J, the Jewish Foundation of Louisville, Hillel and the Jewish Community Relations Council, has continuously provided the core and traditional opportunities, as well as innovative engagement experiences connecting people to Jewish life. We welcome all Jews, their friends and partners of other faiths, anyone who wishes to connect with the Jewish community.
We are grateful to the JCL Board of Directors for the leadership they demonstrated this past year. The following new Vision, Mission and Values was recently adopted by the board:
OUR VISION
Inspiring meaningful lives while transforming our Jewish future.
OUR MISSION
To be a community rooted in Jewish culture and values providing a pathway to a changing world as we bring people together to discover, connect and flourish.
OUR VALUES
Tikkun Olam – repairing the world;
Torah – always learning, teaching and growing;
Areyvut — caring unconditionally for one another;
Klal Yisrael – unity of the Jewish people.
Since last year, we proudly reached several milestones, including the leadership phase of the "Our Community, Our Future" capital campaign, the incredible support from the Jewish Heritage Fund for Excellence and the recent purchase of the Anshei Sfard property – all while strengthening our role as the convener for Jewish Louisville. We remain committed to providing excellent experiences and supporting the needs of the entire Jewish community.
Our annual campaign engaged nearly 1,000 donors; LIFE & LEGACY celebrated commitments of over $7.6 million; and J events earned stellar satisfaction survey results.
The J partnered with Kindred for another successful year of the Kindred Active Adult Series and Arts & Ideas launched new programs, including the innovative event "The Letter I Never Sent" featuring 18 unique authors.
From our beloved seniors to our youngest participants, we never stop meeting their needs as they discover, grow and connect at The J.
Over 110,000 experiences took place this past year, and the kavod, (honor and respect) goes to the JCL volunteers and staff. Our volunteers give selflessly of their time and talent.
Our staff, which numbers 300 including full- and part-time employees and summer staff, are committed professionals. We are fortunate that so many have found a place within the JCL family, providing joy and passion through their work.
We invite you to join us as we begin what will undoubtedly be an exciting year for the JCL.
(Sara Klein Wagner is president and CEO of the Jewish Community of Louisville.)