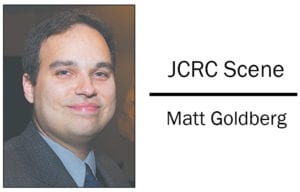 As Zionists and supporters of Israel, we follow what goes on there closer than your average person.
We tend to hear sooner about important events making Israeli headlines. Our ears perk up when we hear Israel mentioned in the news. We can name, with varying degrees of ability, some of the leading political figures there.
We are also aggrieved when Israel is criticized unfairly. We bristle at the unfair treatment Israel gets in international forums such as the United Nations. We defend her against attacks and seek to thwart any efforts at promoting BDS (boycott divestment sanctions).
Because of the forces arrayed against Israel in the international arena, we generally couch our criticism in praise, or we hold our fire altogether when the Israeli government does something that we find truly offensive.
But there are certain times when we must speak loud and clear, and this is one of those times.
Prime Minister Benjamin Netanyahu's outreach to the Otzma Yehudit (Jewish Power) party is outrageous and offensive. This party is the ideological descendant of Rabbi Meir Kahane, a racist who was banned in the Knesset for his anti-Arab positions. Otzma Yehudit has called for mass expulsions of Arabs, separate facilities for non-Jews, loyalty oaths and death penalties for non-Jews who, in some way, speak out against Jews (not to mention their complete opposition to any peace deal with the Palestinians).
This kind of thing is inherent in every form of nationalism in every country, and Otzma Yehudit is certainly the underbelly of Zionism.
By itself, this party would be hard-pressed to muster enough voters to enter the next Israeli government, though they have won Knesset seats in the past. That's why the prime minister, who finds himself in an unusually tough election, has acted to ensure their supporters are not wasted. He has combined them with another small party, Jewish Home.
Now, they are demanding ministerial posts should Netanyahu be re-elected.
Having this party in a governing coalition makes Israel advocacy that much harder; our moral high ground begins to crumble beneath our feet.
Thankfully, the Israeli Supreme Court has just banned one of Otzma Yehudit's senior members, Michael Ben-Ari. That's good, but things should never have gotten to this point.
Netanyahu must disavow this party. He must create a space where Arab Israelis feel welcome in their own country and have the same rights as everyone else.
He must, but we're not holding our breath.
That is why, for the first time in a very long time, the Jewish Community of Louisville criticized him without qualification. We notified our regional Israeli consulate of our displeasure with the prime minister, and they in turn forwarded it to the Foreign Ministry in Jerusalem.
It is because we care so much about Israel that it grieves us when something like this happens.
Shootings in New Zealand

The recent mosque shootings in Christchurch, New Zealand, were shocking, but not surprising.
Hate crimes and speech are rising precipitously around the world. Memorial vigils are a regular occurrence. Thoughts and prayers are important, but so are acts to break down communal barriers.
Reaching out to the vulnerable through civic engagement and following the Golden Rule (a new initiative through Catholic Charities aimed at welcoming new Americans) are ways to reduce hatred. Let's all embrace them
(Matt Goldberg is director of the Jewish Community Relations Council.)