"Nicaragua: The land of serene lakes and thermal baths fueled by volcanoes; of polluted water and garbage-fueled fires. Filled with beautiful scenery and trash everywhere. I met those in real need and those who are so willing to give."
-Rabbi Adam Frieberg, Rutgers Hillel
I had no idea what to expect when I arrived in Nicaragua for an alternative winter break trip with 14 other strangers. Truly, though, the experience turned out to be unforgettable.
My trip was organized by Justifi, a not-for-profit organization that partners with grassroots groups on the ground in Nicaragua and other developing countries. Justifi sends what it calls "Jewish change-makers" to these lands to perform service work that will have a lasting impact on their inhabitants.
Our group helped Sonati and the Peace Project, both local non-profits in Nicaragua that help with schools and the environment, started in response to the Nicaraguan government providing little to no support to the school system.
Using recycled materials such as cut tires, our group built benches and lunch tables for a school. We also fixed swing sets and helped make a mural of paints, glass tile and bottle caps. We re-modeled classrooms and spent valuable time with the children teaching subjects as wide-ranging as good dental hygiene and pursuing a higher education.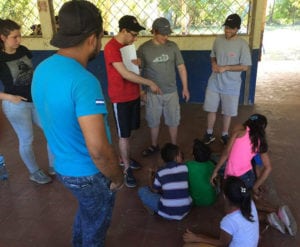 At first, the language barrier made it difficult to see the impact we had made, but we soon realized that all the children we met were eager to come back for next term.
While also enjoying Nicaragua's serene lakes and beaches there was plenty of time spent cleaning up the piles of trash left scattered. At Laguna Apoyo, a natural reserve and crater lake in the town of  Granada,  we helped the Peace Project clean all the trash left on the shorefront.
The last couple of days of the trip were spent in San Juan del Sur, a beach town bordering Costa Rica, where a huge statue of Jesus towers above the houses and shops, reminding all that Nicaragua, like other Spanish-speaking countries, is an overwhelmingly Catholic nation.
Yet surprisingly even here there is a tiny outpost of Judaism, a Chabad house.
The rebbetzin, Chana Atar, and her husband, Rabbi David Atar, have not been in Nicaragua for long, but they have already made their presence known by opening up a kosher restaurant. The Falafel Shop specializes in Israeli food in this once-sleepy town, where travelers flock to the surf, including young Israelis. They, along with a few local Jewish residents, volunteers and tourists, come to the Atars enjoy traditional Jewish food, celebrate Shabbat and holidays and maybe to get a dose of some new Jewish songs, liturgical and anecdotal sustenance.
I found myself in awe eating a Sabich sandwich on an alley corner where vendors on bikes were shouting "Quesiilllo!" – a string of mozzarella-type cheese with pickled onion, sometimes ham, a watery sour cream, and a little salt all wrapped in a thick tortilla.
This trip left me with an experience of feeling both grateful and unsettled. Unsettled ebcase I saw the degree of poverty. Gratful because I arrived knowing no one, and departed with an amazing group of friends.
(Jacob Efman is a graduate student in the masters of public administration program at U of L.)