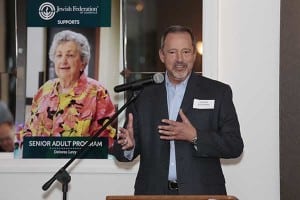 Louisville native, Chief Financial Officer of the Miami Heat and Chairman of the Broward County (Florida) Jewish Federation, Sammy Schulman made a triumphant return home, speaking at a Federation Campaign Men's Event held at Vincenzo's restaurant on March 1.
Schulman has been back to Louisville many times since moving away but this is the first time that he has appeared at an official campaign event. He was happy to appear before a crowd of 55 Louisville community members, many of them men with whom he grew up and has been friends with since childhood.
Schulman has been working for Miami Heat franchise since its inception in 1987, starting out in the accounting office and eventually working his way up to become the CFO. After being introduced by his lifelong friend Steve Trager, he spoke about what it is like working for the Heat and being involved in the management of an NBA franchise.
He told several stories about different members of the Heat over the years, including a heartwarming story about retired center, Alonzo Mourning. When the Heat received a letter from the parents of a sick child who is a huge fan of the team, management asked several players to visit him in the hospital. Mourning was the star of the team, so it was a big deal when he agreed to the visit.
When he got to the hospital, he cleared everyone out of the room so that it was just this young man and him. He stayed well over an hour – just the two of them – in private without any cameras. This young man's parents said it was the first time the boy had smiled in weeks. Schulman also talked about how and why he got involved with the Federation. He had not been overly active, but he decided to start going to a few events, which he enjoyed very much.
Eventually he agreed to participate on the annual campaign and went on a mission to Eastern Europe. While there, he saw the amazing work of a Federation-supported agency, the American Jewish Joint Distribution Committee (JDC), which supports poorer Jewish communities around the world.
He met a recipient of this much-needed aid, a woman living in a rundown apartment, no family, disabled, surviving on a meager pension of only $150.00 per month. She told Schulman and the rest of the group visiting her that without the work of the JDC, she would not be alive. This inspired Schulman to the point where he agreed to become the Federation chairperson, a title he still currently holds.
As a leader in the Jewish community of Broward County, FL, he invited Miami Heat General Manager Pat Riley to appear at a campaign Men's event. He agreed to a reduced fee because Schulman invited him, but he was not entirely sure what the event was all about. After appearing that evening, Coach Riley was so inspired by the event that he agreed to waive his entire fee, symbolically tearing up the check to the delight of all those in attendance.
After the program, Schulman joined many event attendees at the Louisville Cardinals basketball game at the Yum Center.
This event was hosted by Mark Behr, Andy Blieden, Mark Blieden, Jonathan Geer, Doug Gordon, John Greenberg, Scott Trager, Steve Trager, Andy Vine and Louis Waterman.