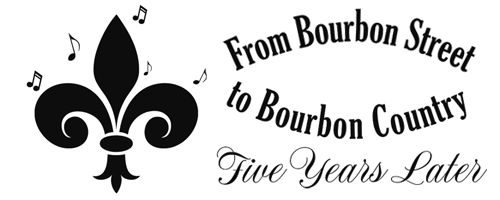 Adath Jeshurun's Selichot Jazz concert, "From Bourbon Street to Bourbon Country – Five years Later" will be broadcast on Wednesday, December 15, at 8 p.m. on WFPK-FM, 91.9.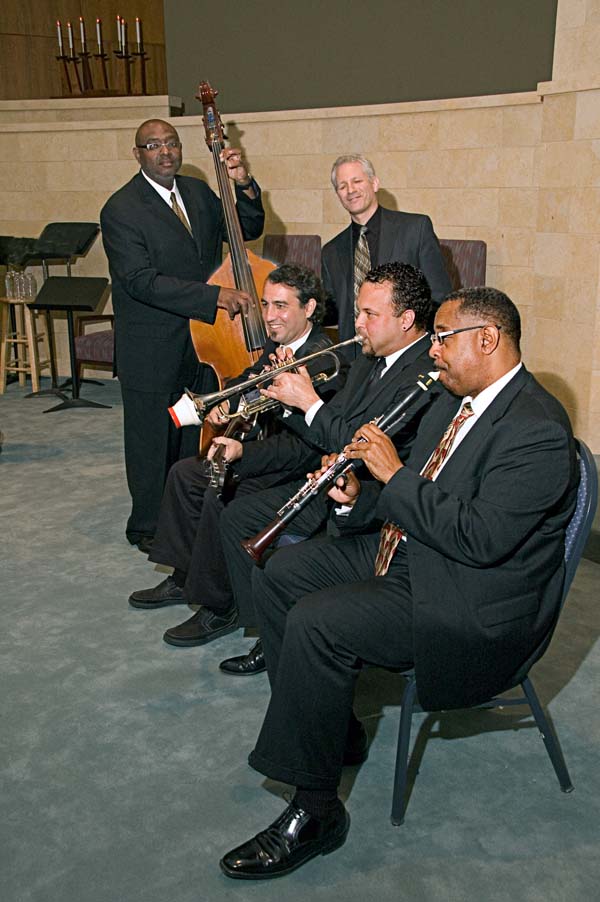 The one-hour Kentucky Homefront local radio show with host John Gage was taped at AJ before a live audience of 400 people on September 5, and featured the New Orleans famous "The Dr. Michael White Quartet" along with Harry Pickens and Cantor David Lipp.
The show also includes Bob Sachs' original short story, "And the Angels Sing," performed by the author, Don Stern, Ralph Green and Cantor Lipp.
Homefront features Kentucky's finest acoustic folk, traditional, blues, country and bluegrass musicians and its best storytellers. Its front porch broadcasts are reminiscent of radio variety programs of a bygone era, and its mission is to preserve, promote and celebrate live grassroots music and storytelling traditions of the rich and diverse cultures of Kentucky and its surrounding states.
In 2005, AJ brought four New Orleans musicians displaced by Hurricane Katrina to play traditional classical New Orleans Jazz at their Selichot service. These nationally renowned musicians had fled their devastated city, leaving everything they owned including some of their instruments.
Businesses and organizations rallied to provide hotel accommodations and meals for the musicians. Mayor of Louisville, Jerry Abramson, presented the musicians with keys to the city.
Five years later, in 2010 AJ brought legendary clarinet player, Dr. Michael White and his quartet of world-renowned musicians back to Louisville to raise money for the Gulf region, still recovering from Katrina and, this year, dealing with the oil spill. Once again, the Louisville community supported the concert with donations and volunteers.
Along with the free concert was a reception with desserts from Sweet Surrender and Jan Weber and a Bourbon Tasting by Four Roses Distillery, Heaven Hill Distilleries, Maker's Mark Distillery and Southern Comfort.
Donations for this event can still be made through a secure website, www.adathjeshurun.com/jazz.  All donations are tax deductible with the net proceeds going to The Gulf Oil Spill Fund, at the Greater New Orleans Foundation and the National Wildlife Federation's "Gulf Oil Spill Restoration Fund".
Sponsors included VibrantNation.com, the Louisville Convention and Visitors' Bureau, Kentucky Distillers' Association, BC Plumbing Company, The Jodi Lapin Fund, the Cantor's Discretionary Fund and the Stuart Handmaker L'Dor Vador Fund.
Individual donors included Ron Greenberg, Irv Goldstein, Phyllis Leibson, CJ Pressma, Felice Sachs and Larry Wasser.
In-kind donations from companies included alacater, Amazing Green Planet, BC Plumbing Company, Bourbons Bistro, Breadworks, Equus and Jack's Lounge, HMG Media Relations, Lipschutz Photography, Louisville Convention and Visitors' Bureau, Louisville Marriott Downtown, Louisville Slugger Museum, Luigi's Pizzeria, magpie alkemie graphics, Maker's Mark Distillery, Minuteman Press Downtown, Nearly New Shop, Dorothy Osofsky Travel, Republic Bank, Quantum Communications, SLYN Systems, Sweet Surrender Desserts and Toby Tours.
Miriam Godhelff restored and lent her late husband's double bass for the event.
People who donated items included Robbyn Bernson, Lois Dunner, Maria Fernandez, Amy Gilbert, Miriam Godhelff, Honi Goldman, Debbie Goldstein and Greg Singlust.
Volunteers for the event included:
Chair of the 2010 AJ Jazz Concert: Amy Gilbert
Volunteer Chair: Cheri Ben David with Steve Goldstein, Alan Katz and Beth Goldstein
Hospitality Chair: Lois Dunner
Volunteer Chair for the Reception: Debbie Goldstein with Emily Goldstein, Rachel Goldstein, Kaitlin O'Bryan, Collin O'Bryan, Jeanine O'Bryan, Miranda Lawrence, Jayce Wraley, Sarah Carney and Phillip Kurtz
Stage Manager: Amy Merrick with Erin McCallion-Holmes
Computer Donation Chair: Jeff Slyn with Craig Friedman and Julie Lauderback
Reception Chair: Jan Weber with Marsha Roth, Jackie Rubin, Marcy Rosengarten and Phyllis Green.
{gallery}Community/2010/120310/AJConcert{/gallery}