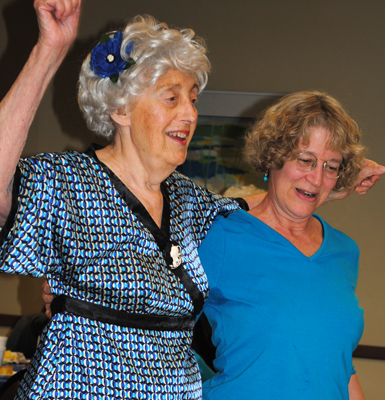 Diane Sadle, Senior Adult Director, ext. 149
Natalie Kusyo, Senior Adult Nutrition Site Manager, ext. 143
The JCC Healthy Senior Adults Program offers year-round nutrition, fitness, recreation, education and cultural activities that ensure the health, social connection and independent living of senior adults in our community.  The Senior Adult Nutrition Program, providing both congregate and home-delivered meals, is connected to Sports & Wellness programs, in order to meet the total wellness needs of seniors in our community.
The JCC is the only Kosher Nutrition Site in the state of Kentucky, serving hot lunch Monday-Friday at the Center and delivering it to the homes of disabled and homebound seniors.
Registered dieticians develop lunch menus to maximize flavor and nutritional value and that compliment the eating habits of seniors adults.
Health records are kept to assess strength, mobility and each client's physical and emotional rate of change.
Annual influenza vaccinations, pneumonia vaccinations and mammograms are offered.
Socialization and informal support networks are provided through congregate meals, cultural activities and educational programs.
Age-appropriate physical fitness activities nourish the mind, body and spirit.
Seniors are offered leadership and volunteer opportunities on committees and special events.
Social, educational and recreational programs are offered year-round and often include:

Bingo
Gourmet Dining
Day Trips
Redt Yiddish
Adult Social Club Chorus
Art & Crafts
RAMS Card Group
Senior Retirees Meeting
Aerobic Class for Seniors
Chair Exercise
Light Weights
Line Dancing
Healthy Body
Swimnastics
For information regarding Senior Adult programming, contact Diane Sadle at (502) 238-2749 or email dsadle@jewishlouisville.org.
All senior adult programs funded in part by: Mark Kletter Adult Special Projects Fund, Ethel Kozlove Levy Senior Adult Hospitality Fund, Rebecca Levy Senior Adult Dance Fund, Irvin & Jeanne Wasserman, Senior Adult Musical Arts Fund, Denise & Jacques Wolff Senior Adult Fund, Irvin & Betty Zegart Senior Adult Fund, Judith Bensinger Senior Adult Fund