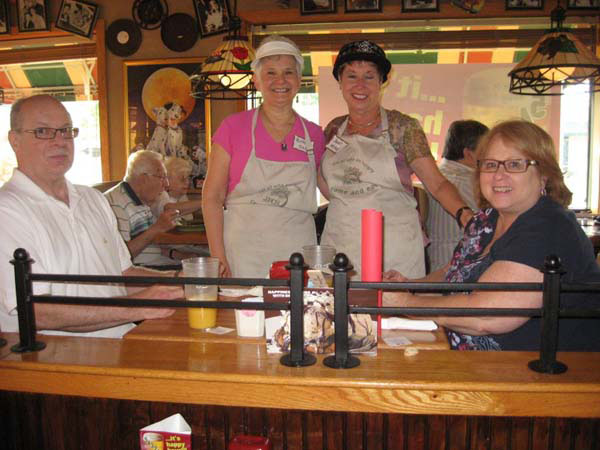 On Sunday, August 8, Jewish Family & Career Services gave the community the opportunity to come out with their families for a fun-filled, all-you-can-eat pancake breakfast that was also a major find-raiser for the agency's Sonny and Janet Meyer Food Pantry.
By the time the JFCS volunteers shut down the kitchen at Applebee's Restaurant on Taylorsville Road near Bardstown Road, $2,950 had been raised for the food pantry, and then, Bonnie Bizer matched that to bring the total to $5,900.
JFCS's Food Pantry distributes 60 tons of food annually.
The annual Flapjack Fundraiser is a volunteer-run event. The JFCS Food Pantry Committee is chaired by Janet Meyer. Other volunteers were Sonny Meyer, Carole Snyder, Sara Yamin, Ruth Silon, Jane Shapiro, Rhonda Welenken, Martha and Lowell Katz, Marshall Kahn, Sandi and Barry Friedson, Dara and Michael Cohen, Bonnie and Harold Cohen, Eileen, Harry and Emily Renco, Linda Goodman, Nancy Blodgett, Bill, Rachel and Haley Ryan, Julie Lauderback, Michael Friedman, Diane Joels, Barry Gordon, Larry Brody, Karen and Jay Waldman, Sheilah Abramson Miles, Lois Marcus, Marcia Gordon, Audrey Nussbaum, Jan Glaubinger, Frank Kasdan, Mark Ament, Lance Gilbert, Jay Klempner, Judy Freundlich Tiell, Beverly Bromley, and Pledge 13 alumni Jennifer and Rebecca Davis.
For more photos visit the JFCS website.
{gallery}Community/2010/082010/JFCS_Pancake_Breakfast{/gallery}