Specialty Camps
All campers will participate in free swim daily.  That includes all Specialty Camps!
Visit the Swim page for more information.

Camp Hours: 9 a.m.-3 p.m.
4Kicks for Kidz
Coach Rob Zimmerman, owner of 4Kicks for Kidz was a collegiate soccer player who has been involved in soccer for over 30 years.  4Kicks for Kidz has been serving the Louisville area since 2007.  All of the coaches are experienced coaches that offer a unique ability to motivate kids. Coaches are CPR certified, fully background screened and extensively trained on the methodology that 4Kicks for Kidz employs to deliver high quality soccer instruction.
Grades: 1-5 • June 17-21
This soccer camp will provide a safe environment for your kids to learn and grow their physical skills as well as their soccer skills. This camp is ideal for beginner and intermediate players.
Bricks 4 Kidz Camps–Camp is Full!

Bricks 4 Kidz camps provide an atmosphere for campers to build unique creations and play games while triggering their imaginations and building their self-confidence. Sharon Dodson, lead instructor and managing director, has over 25 years of technical and leadership experience in the electric utility industry, and owned and operated the Bricks 4 Kidz franchise in Louisville for over two years.
Motor Mania Amusement Park with Bricks 4 Kidz
Grades 3-6 • July 22-26–Camp is Full!
Can you create your own amusement park? All campers will build with LEGO® Motors and LEGO® Technic Parts and use LEGO® Wireless Remote Controls. Each day we will add more details to our amusement park, such as a nearby city and airport.

Super Hero Camp with Bricks 4 Kidz
Grades 1-3 • July 1-5–Camp is Full!
What do you get when you combine the endless creative possibilities in our Bricks 4 Kidz project kit with the exciting world of super hero adventures? An action-packed camp you won't want to miss! Each day, we'll build cool contraptions inspired by your favorite Super Heroes and their powers — super human strength, the power to fly, and slinging webs to swing from tall buildings. Saving the world, one LEGO® brick at a time!
Minecraft Camp with Bricks 4 Kidz
Grades 2-3 • July 29-August 2–Camp is Full!
Grades 2-5 • July 15-19–Camp is Full!
Grades 4-6 • June 24-28–Camp is Full!
Experience the world of Minecraft with LEGO® bricks, a game about placing blocks to build anything you can imagine. Campers will start by crafting their shelters to keep out monsters and some of the mobs, critters and tools. Students will face new challenges each week, building motorized Bricks 4 Kidz models and crafting key elements (with LEGO® bricks) from the Minecraft game.
Stop Motion Movie Making Camp with Bricks 4 Kidz
Grades 5-8 • August 5-9–Camp is Full!
Lights, camera, LEGO®! The campers create and develop an adventure movie and build a movie studio with LEGO® bricks. Then, the campers film their movie using a digital camera, add/edit movie dialogue, sound effects, music, graphics, titles, credits and text. On Friday parents are invited to join us for a movie premier.
Choose Your Own Adventure
Grades: K-5 • August 5-9
During this exciting week, children are masters their own destinies and are able to choose the activities they want to participate in every day. Activities might include edible art, clay creations, water fun, rocket building, field sports and more.

Football Futures
Coach Mark Catlett has been coaching football for over 20 years. He was the varsity head football coach for Ballard High School for 14 years and was the assistant football coach at Centre College, Eastern Kentucky University and the University of Kentucky. He is a graduate of and former football player for Centre College. He currently owns and operates Football Futures LLC which works with over 400 youth annually in developing football skills and teamwork concepts.
Grades: 1-5 • June 10-14
Play football scrimmages and participate in drills and contests while learning and improving your football skills including passing and catching. In addition, learn about character, leadership, sportsmanship and work ethic in this camp.

Horseback Riding with Louisville Equestrian Center

Grades: 2-6 • June 17-21
Enjoy fun filled days of games, activities and lessons centered around horses while learning the fundamentals of horsemanship and horse care. Campers of all levels of riding experience are welcome.

JAWS
Grades: 3-9 • July 29-August 2–Camp is Full!
Join us on another Junior Aquatic Water Safety Adventure. The campers will learn about water safety and have different water experiences including sailing on the Ohio, boating on Patoka Lake, playing at Atlantis Waterpark and more!
Sailing Camp with River Cities Community Sailing Program
The River Cities Community Sailing Program introduces youth, 10 to 17, to recreational and competitive sailing through weeklong summer camps.  Ron "Coach" Gustafson and Patrick Gregg, its knowledgeable and energetic youth camp leaders, make learning sailing a gas!

Grades: 5-8 • July 8-12 – Beginners
Grades: 5-8 • July 15-19 – Intermediate
In these week-long, fun and challenging sailing camps, campers go from novices to competent sailors and beyond. As a beginner, you learn to use the wind to go where you want in a 13-foot boat—steering it, trimming its sail, and tacking and jibing. As an intermediate, you build on the skills learned as a beginner. And, as you learn and gain competence your self confidence and self-reliance soar.

U of L Young Astronomer's Camp
Grades: 4-6 • July 22-26
This five day adventure to the stars begins right here on planet Earth. Through hands-on activities and planetarium shows, campers will make their way through the Universe, investigating the moon, sun, planets, stars, galaxies and more. They will learn about human spaceflight, how scientists discover what's really up there and how to navigate the night sky from their own backyard.
U of L Creative Writer's Camp
Grades: 4-6 • July 22-26
This camp will dive headlong into creative writing, exploring the elements of fiction and poetry in fun and sometimes challenging ways. Through reading, writing, and discussion, campers will consider how stories and poems work while creating several of their own. At the end of the week, they will combine their creations into a camp anthology to share with friends and family.
Wiley Brown Basketball Camp
Coach Wiley Brown is a former University of Louisville Collegiate player, a starting forward on the NCAA Division I National Champion basketball team at the University of Louisville and a member of the 1982 Final Four team. Wiley Brown begins his sixth season as head coach for the men's basketball program at Indiana University Southeast.
Grades: K-2 • June 24-28–Camp is Full!
Grades: 3-8 • July 8-12
Learn the fundamental skills of basketball such as ball handling, shooting, offensive and defensive drills! In addition, each camper will have an individual evaluation by the coaches to help understand what he or she can do to improve throughout the year.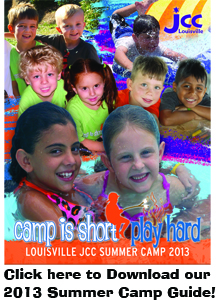 For more information about any of these camps, contact Julie Hollander, Camp Director, 502-238-2708, jhollander@jewishlouisville.org.
For pricing information and to register download the registration form.