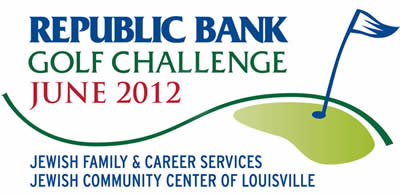 JUNE 25, 2012
Standard Country Club
2011′s Golf Challenge was a great success, and we're looking forward to doing it again in 2012!
We invite you to participate in the Ninth Annual Republic Bank Golf Challenge benefiting Jewish Family & Career Services and the Jewish Community Center. We're expanding the competition to include Tennis and Bridge Tournaments as well as Golf.
This event is an excellent opportunity to build corporate exposure, increase brand awareness and reach upscale contemporary consumers while supporting two outstanding community resources. A take-home, official program will be new this year with advertising as a part of the sponsorship package.
Don't miss out. Please join in supporting JFCS and the JCC as a sponsor.
For more information, contact JFCS Executive Director Judy Freundlich Tiell at jftiell@jfcslouisville.org.