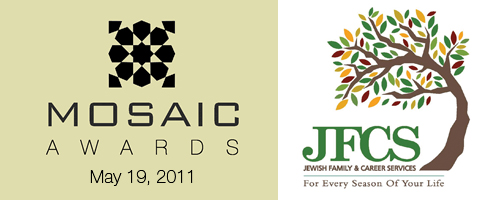 [by Phyllis Shaikun]
On Thursday, May 19, Jewish Family & Career Services will honor five individuals at the sixth annual MOSAIC (Multicultural Opportunities for Success and Achievement in our Community) Awards event to be held at the Henry Clay Hotel at 5:30 p.m. The awards salute New American immigrants and refugees who have made significant contributions to their profession and to our community.
Among those to be honored are Miguel Lagunas, a retired electrical engineer from Mexico and founding member/volunteer leader of many Hispanic/Latino community organizations; and Saleem Seyal, M.D., of Pakistani descent, is an associate clinical professor of medicine at the University of Louisville School of Medicine, an interventional cardiologist and senior partner at River Cities Cardiology and medical director of preventive cardiology at Clark Memorial Hospital.
Lagunas was born in Mexico City in 1938 and immigrated to Louisville as a teenager. After completing military service, he earned an electrical engineering degree from the University of Louisville's Speed Scientific School in 1969. He has rallied for immigrant rights, served on the Louisville Metro Police Department's Accountability Commission and on the board of Metro United Way and was a commissioner for the City of Lincolnshire.
Over the past 50 years, he has organized Heritage Weekends and led the drive to broadcast the Univision TV station in Spanish 24 hours a day. He is co-founder of the Latin American Club and is involved with El Club Latinoamericano de Louisville, the Hispanic Business Association, Sister Cities of Louisville, La Hispano/Latino Coalition, Ballet Espanol, Adelante Hispanic Achievers, St. Bartholomew Catholic Church among many other endeavors. He also co-hosts a weekly radio program on La Caliente radio and has written several articles for Al Dia, Louisville's Spanish newspaper.
Lagunas' family includes his wife, Martina, daughter Jazmin, seven stepsons and two stepdaughters, nine grandchildren and three great-grandchildren.
Dr. Saleem Seyal was born and educated in Pakistan. He moved to Chicago in 1975 to begin an internal medicine residency. He spent three years as medical supervisor of the emergency department at Weiss Hospital before beginning his cardiology fellowship at the University of Illinois. In 1983, Dr. Seyal came to Louisville and has been working with Jewish, Sts. Mary & Elizabeth and Clark Memorial Hospitals for more than 27 years. He currently serves as president of River Cities Cardiology.
Dr. Seyal has published numerous articles and reviews for local publications as well as for JAMA (the Journal of the American Medical Association). An accomplished medical historian, he has a special interest in Abraham Flexner (he co-chaired Louisville's Centennial Celebration of the Flexner Report at Jewish Hospital) and various aspects of medical education.
In the community, Dr. Seyal participates in interfaith discussions and collaborated with Khalid Kahloon, a previous MOSAIC winner, to found the American Muslim Association of Louisville. He has been involved with Interfaith Paths to Peace and with Louisville's Indian community. He has spoken about the Pakistani culture at local universities, public schools and community forums in an effort to promote understanding. The Seyals live in Prospect and have three grown children.
This year's honorees also include Leon Wahba, who was born in Egypt and  is a retired international banker and volunteer leader with the Jewish Community of Louisville.
Each honoree will receive a MOSAIC Award, an artistic representation symbolizing Multicultural Opportunities for Success and Achievement In our Community. Kentucky woodcraftsman Mark Whitley created this year's award.
This year's other honorees also include: Paul Gerrard, from Great Britain, director of Corporate Affairs and chairman of Humana's Corporate Social Responsibility Council, experienced international manager; Suhas Kulkarni, from India, founder and CEO of Olmnisys, chairman, Indian Professional Council of Kentucky, president, Board of Directors, Crane House The Asian Institute; and Leon Wahba, from Egypt, retired international banker; volunteer leader with the Jewish Community of Louisville, including chair of the Jewish Community Relations Council.
Individual tickets for the MOSAIC Awards cost $100 per person and numerous levels of sponsorships are available. Tickets can be ordered online at www.jfcslouisville.org. For more information contact Beverly Bromley at 452-6341, ext. 223.
The honorary chairperson of the event is Bill Samuels, Jr. retired president of Maker's Mark. Jewish Hospital HealthCare Services is the New American Sponsor and WLKY is the Media Sponsor. MOSAIC Sponsors are Maker's Mark and PharMerica. Proceeds from the event will benefit JFCS.