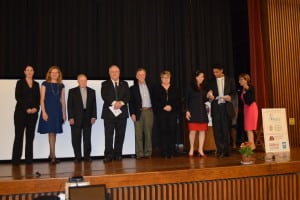 Interfaith Paths to Peace's Sixth Annual My Recipe for Peace dinner and fundraiser took place on Thursday, October 8, at The Temple. The event included music from John Gage, brief presentations from 10 leaders who shared their recipes for peace and dinner prepared from recipes provided by each, and a silent auction.
IPP also recognized Rep. John Yarmuth as the Peacemaker of the Year. Yarmuth, who was called back to Washington on short notice, left a video acknowledging the work of Interfaith Paths to Peace and thanking the group for the recognition.
Rabbi David Ariel-Joel of The Temple said there were two ingredients in his recipe for peace – hope and the determination never to give up. To illustrate hope, he cited a Member of Knesset from Hebron who said in 1978 there will never be peace in Israel because there is no solution for some conflicts. The politician cited apartheid in South Africa and the conflict between Catholics and Protestants in Northern Ireland.
On the importance of perseverance, the Rabbi pointed to the Torah story of how Abraham argued with God over the fate of Sodom. Starting with a request to God to spare the city if 50 righteous people could be found, he persisted in his argument until the number reached 10.
Barbara Sexton Smith, the chief liaison for the Compassionate Schools Project, observed that we have to recognize the reality of what we see in the world around us and then take responsibility for reshaping it. Xenophobia, she said, dominates our culture, so we must look into ourselves, identify our own prejudices and take steps to overcome them.
She recommended five action steps: talk to strangers, smile a lot, go to events and places where you know you will be in the minority, insist that the boards and committees on which you serve achieve a rich diversity, and don't let inappropriate comments go unchecked.
Gil Betz, the chief strategic officer for Metro United Way, shared his personal struggles. He talked about how he moved from his birth church to the Catholic church; how he worked for the military industrial complex for 19 years before leaving that behind to work for Metro United Way, and how his son was injured in a tree-cutting accident and died four weeks later. "My peace journey brought me to Metro United Way," he said, adding that the peace he has found through his journey is priceless.
Chandra Irvin, the founder and director of the Howard Thurman Center for Spiritual Wholeness, said the best cooks take the ingredients available to them and make them work. So it is with the process for creating peace. We need to look into our pantries of life, take the ingredients we find and decide to make them work. She concluded with Howard Thurman's recipe for peace – ongoing inward journeys with God and ongoing outward journeys with others on common ground.
Rev. Mary Sue Barnett, a Catholic woman priest and founder of the Louisville Coalition for CEDAW (U.N. Convention on Elimination of All Forms of Discrimination Against Women), recounted how 25 years ago she answered a call that came into a crisis intervention hotline from a girl who had been assaulted on a college campus, quit school and moved back with her parents. She couldn't sleep because nightmares, pain and loneliness kept her awake.
While Barnett was able to help the girl and reported that she found deep healing and is flourishing, Barnett was disturbed and said, for her, the young woman's lament has become sacred text and her path to peace is to fight gender-based oppression.
Fr. Jim Flynn, a priest who retired from the Archdiocese of Louisville and serves as an advocate for the poor and marginalized said the path to peace is to hear the cry of the poor and the poorer and to work on their behalf. He also pointed to the importance of the Pope's June 2015 encyclical on the environment as a path forward.
Erin Herbert, the director of programming for the Muhammad Ali Center, said that to give peace a chance, we must give it a place in the curriculum. Unless we teach peace, she continued, others will teach violence, force, misinformation and cynicism. In keeping with Muhammad Ali's core principles, she said, we must teach the peace of gender equality, racial justice, human rights and spirituality.
Rev. Joe Phelps, the pastor of Highland Baptist Church, said his son, Bobby, was a cook, and it was only when Bobby came home and prepared a meal for Mother's Day that he finally was able to experience and appreciate the concert of tastes, flavors and textures in the food and it felt like a gift. Bobby died in a fire two weeks later. Phelps said the lesson he learned from his son is that peace is when the unique flavors of every person are honored and valued, even when they feel foreign, bitter and harsh. May our palates never settle for anything less, he concluded.
Carol Gunderson, the executive director of the Food Literacy Project, focused on the work of her project, introducing young people to healthy foods and helping them develop an understanding by growing their own vegetables at Oxmoor Farms. Deandrae Hughes, a program participant who has become a leader, gave a first person account of how learning about healthy foods and connecting with the soil changed his life.
Elizabeth Hinson-Hasty, chair of the Theology Department and Peace Studies at Bellarmine University, rounded out the evening by challenging those present to look at the larger picture. While we consider peace, we must also remember the plight of the refugees in Europe and the larger problems they represent. She also pointed to other problems around the world including smuggling, underpaid workers, and many more.
It is our collective responsibility to provide a safety net for the vulnerable, she said. The key ingredients for a recipe for peace, she added, are a big stew pot filled with consciousness, love and loving kindness. It must be a pot big enough for everyone, with no borders. "Now," she said, "are we ready to get cooking?"