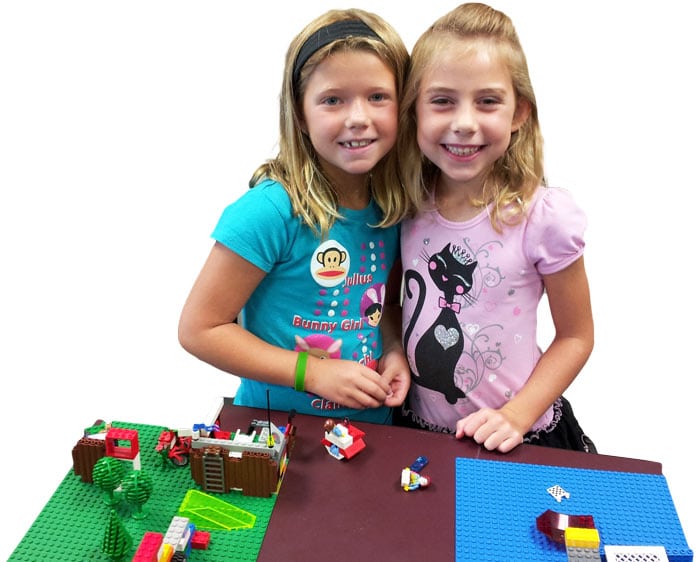 Camp Hours: 9 a.m.-3 p.m.
All campers will participate in free swim daily. That includes all Specialty Camps!
Visit the Swim page for more information.
Comic Book Creator Camp
Grades 4-7 • July 7-11
Bricks, Camera … Comic! Explore the art form of comic book design as you create your own comic book characters and develop story lines filled with pictures of actual sets you design with LEGO® bricks! After creating different scenes, you will take pictures, upload them to a software program and make your own one-of-a-kind comic book. Along with honing your story telling skills, we're going to take your imagination to the next level. At the end of camp, you're going to get to keep a digital comic book that you've created yourself!
SuperHero Camp
Grades 1-3 • June 23-27
What do you get when you combine the endless creative possibilities in our Bricks 4 Kidz project kit with the exciting world of superhero adventures? An action-packed camp you won't want to miss! Each day, we'll build cool contraptions inspired by your favorite superheroes and their powers — super human strength, the power to fly and slinging webs to swing from tall buildings. Saving the world, one LEGO® brick at a time!
Robotics: Mindstorm Mania
Grades 4-7 • June 30-July 3 (No camp July 4)
The hottest selling LEGO® Mindstorms combines classic LEGO® building with the world of robotics, using motors, sensors and software. You'll learn how to design and program your LEGO® 'bots to perform all kinds of tasks! This is for the advanced LEGO® enthusiast!
Movie Making Camp
Grades 4-7 • August 4-8
Lights, camera, LEGO®! The campers create and develop an adventure movie and build a movie studio with LEGO® bricks. Then, the campers film their movie using a digital camera, add/edit movie dialogue, sound effects, music, graphics, titles, credits and text. On Friday, parents are invited to join us for a movie premier.
Angry Birds/Bad Piglets
Grades 2-3 & Grades 4-6 • July 21-25
Welcome to the world of Angry Birds and Bad Piggies … Bricks 4 Kidz Style. During our camp you will actually build and destroy a level from the popular app … Angry Birds with LEGO® BRICKS! Launch birds with catapults and slingshots to destroy pigs. Build a working launcher just like the game and create things to knock down. Use your imagination to make different hats for your piggies and attempt to make all the different colored birds with LEGO® bricks!
Minecraft Camp
Grades 2-3 • July 7-11 | Grades 4-6 • June 16-20
Experience the world of Minecraft with LEGO® bricks, a game about placing blocks to build anything you can imagine. Campers will start by crafting their shelters to keep out monsters and some of the mobs, critters and tools. Students will face new challenges each week, building motorized Bricks 4 Kidz models and crafting key elements (with LEGO® bricks) from the Minecraft game.
MineCraft 2 Camp
Grades 2-3 • July 14-18 | Grades 3-5 • July 28-August 1 | Grades 4-6 • June 23-27
Experience the all new mob figures, mosaics and custom models straight from the Minecraft world … all made with LEGO® bricks! Campers will be challenged to bring their virtual designs from the game to life with LEGO® bricks.
For more information about any of these camps, contact Betsy Schwartz, Camp Director, 502-238-2708, bschwartz@jewishlouisville.org.
For pricing information and to register download the registration form.